New addiction! Imagine moist, chewy brownies topped with a thick layer of gianduja (chocolate and hazelnut paste) and sprinkled with buttery, toasted hazelnuts. Move over other brownie recipes because buttered hazelnut chocolate brownies are my new fav.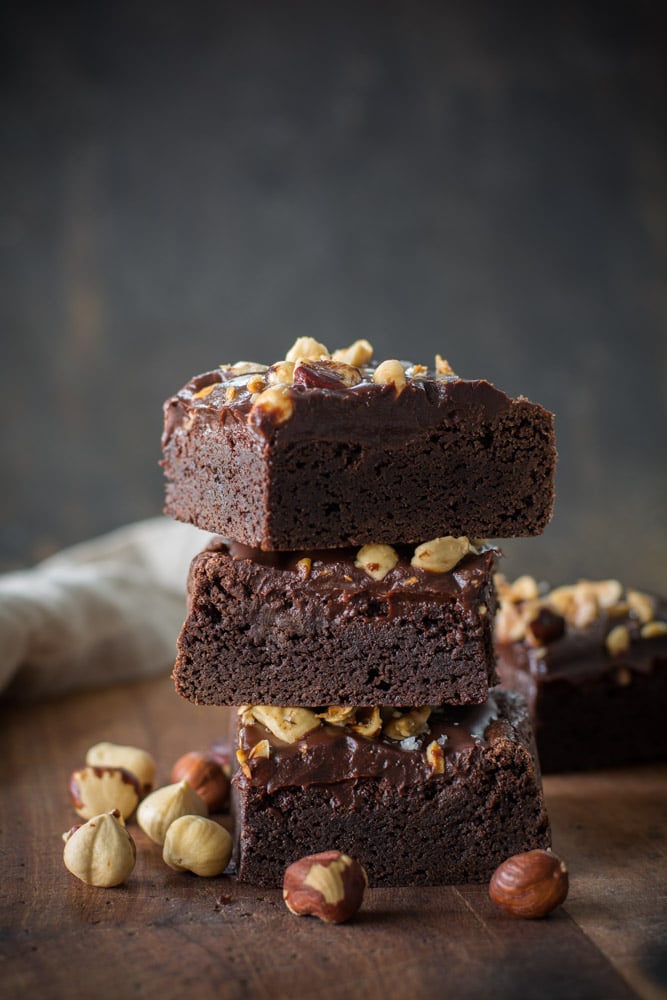 These babies are extremely moist and the addition of hazelnut paste creates another layer of flavor. The salty, buttery crunch of the hazelnuts are the perfect topping. If you're a chocolate hazelnut fan, then you'll fall in love with buttered hazelnut brownies
Brownies are a simple yet perfect dessert. Follow along with my step-by-step photo's and instructions to create your next favorite brownie along with options for making the recipe dairy free.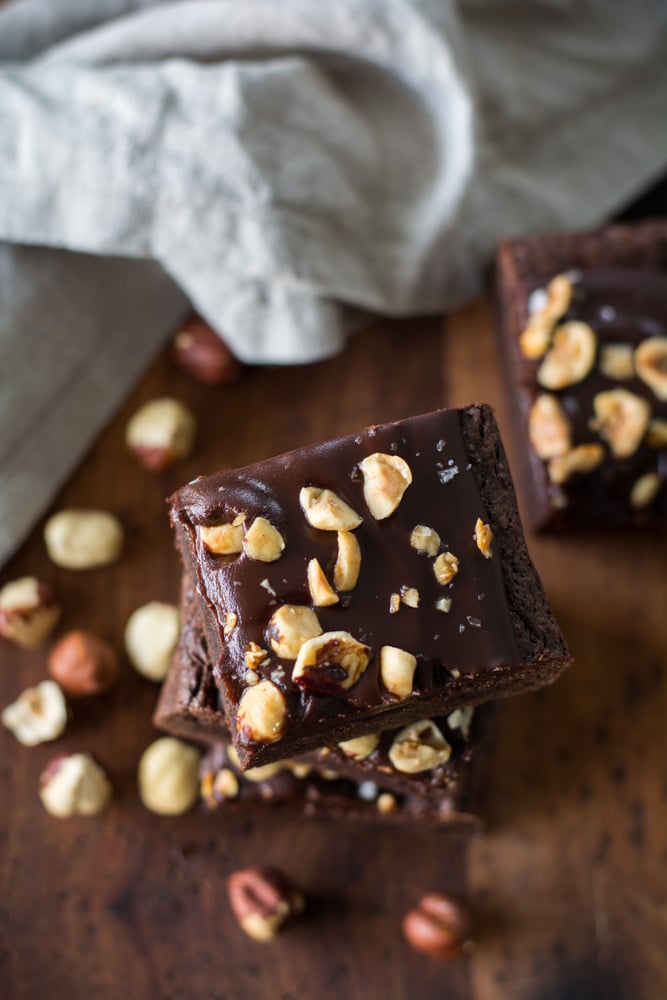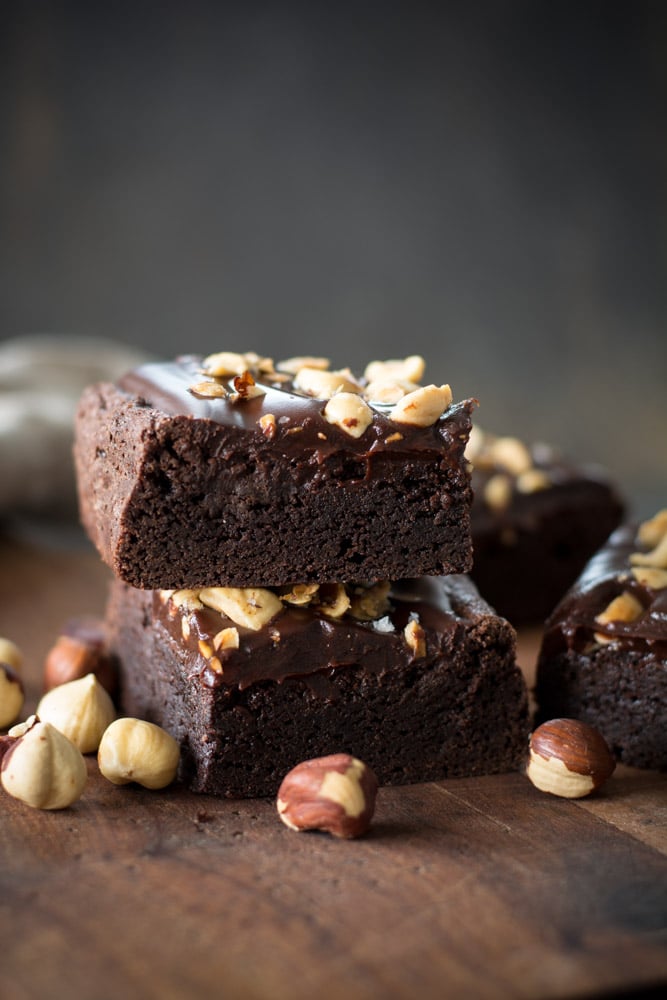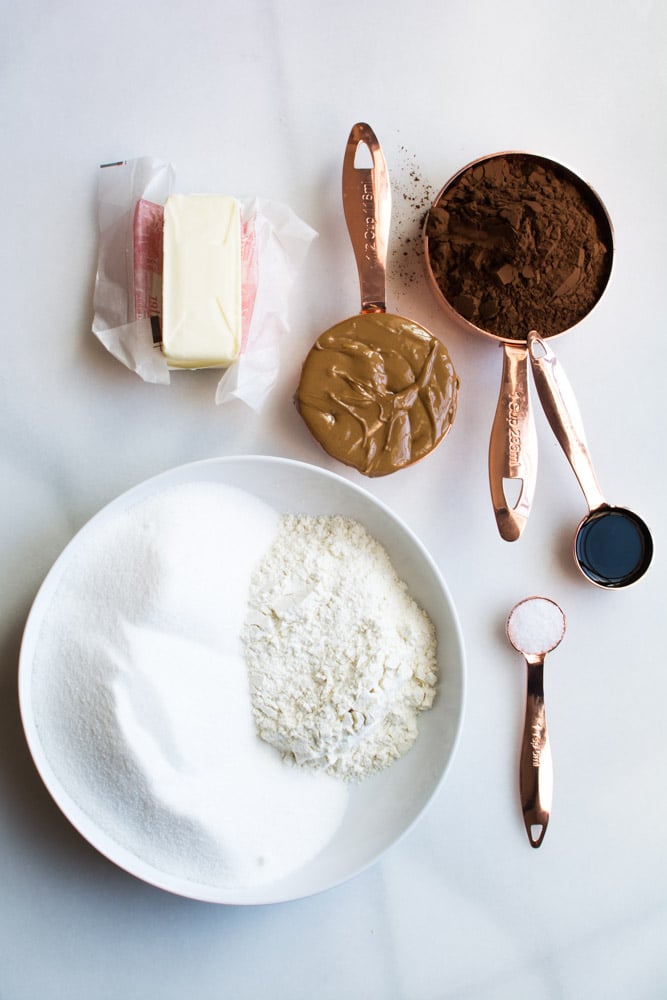 Buttered hazelnut chocolate brownies are so simply to make…too simple, which means I will make them too often. You will need:
2 cups sugar
1 cup flour
1 cup unsweetened cocoa powder
1 teaspoon salt
1/2 cup unsalted butter, melted
1/2 cup hazelnut paste or butter
4 eggs
1 tablespoon vanilla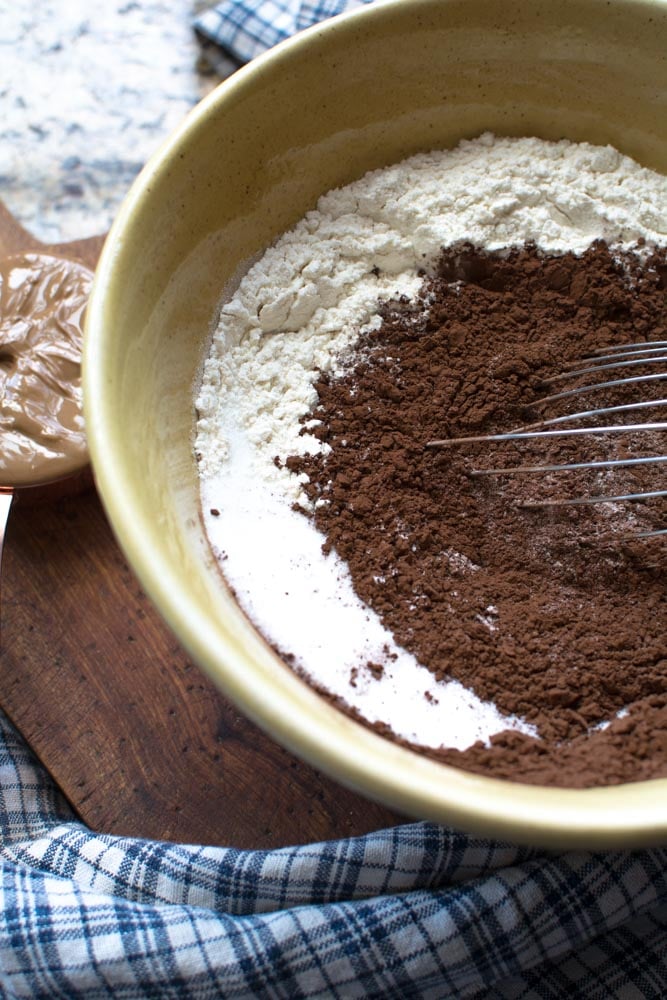 In a large mixing bowl, sift or whisk together flour, sugar, cocoa, and salt. Set aside.
Melt 1/2 cup butter then stir in hazelnut paste until smooth. Here's a side not on hazelnut paste. I use a very cream hazelnut praline paste that I purchase from a store in SLC called Gygi. It is Callebaut pure hazelnut praline paste. It's amazing and cost $12.99 for 16 ounces. Gygi's ships so if you can't find any locally check them out. I purchase a few tubs at a time and put a couple in the freezer. The paste freezes really well…for like a year. If you don't want to mess with finding hazelnut praline paste, hazelnut butter can be used. Just use the creamiest you can find. Just note that the result will be just a little more grainy in texture, but the taste will be good.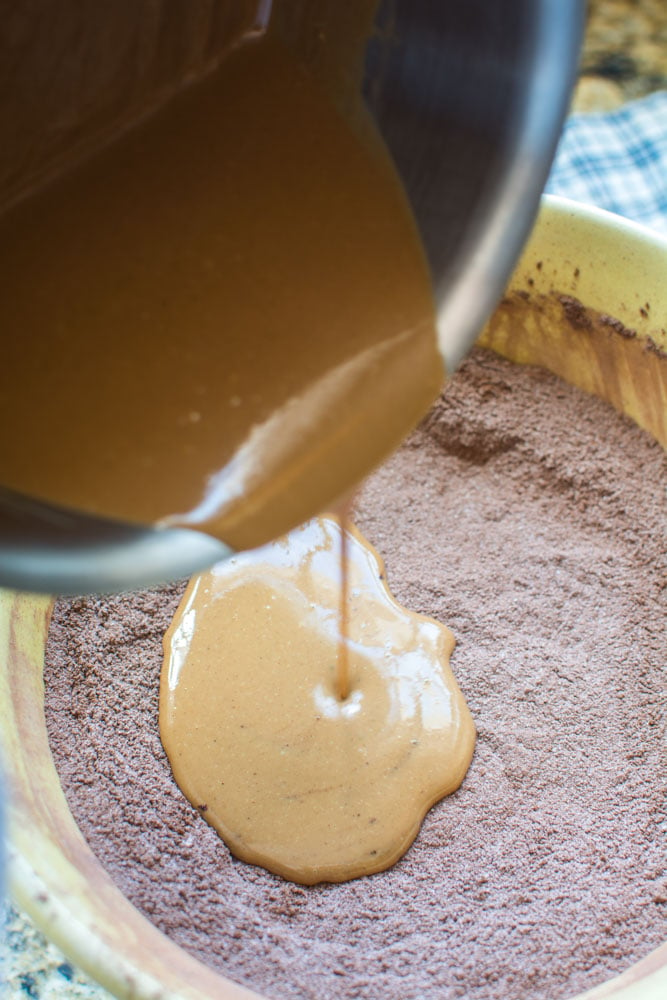 Pour over flour mixture and stir until smooth.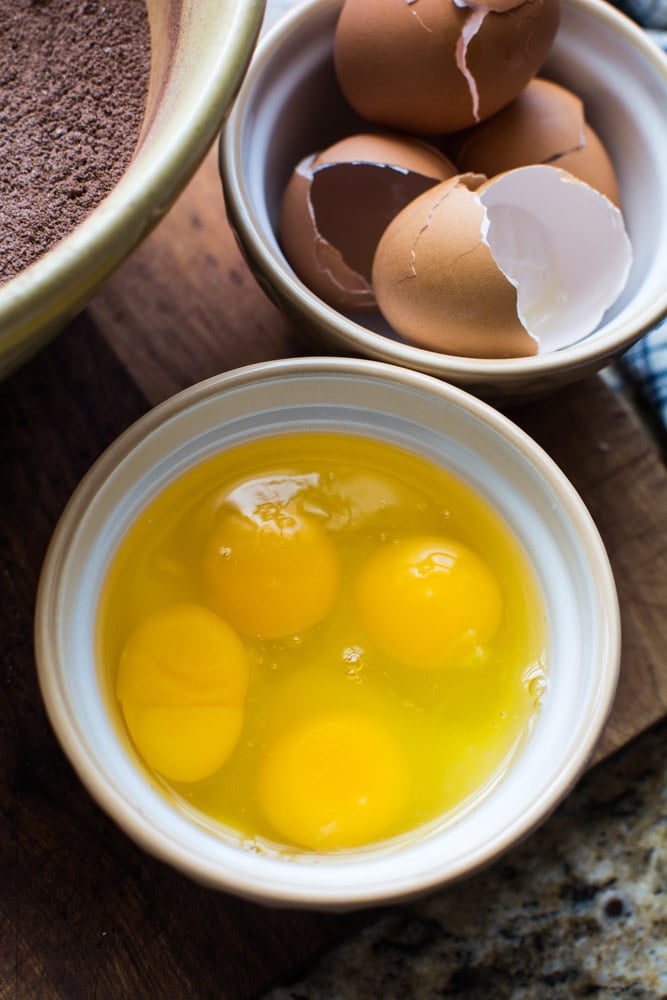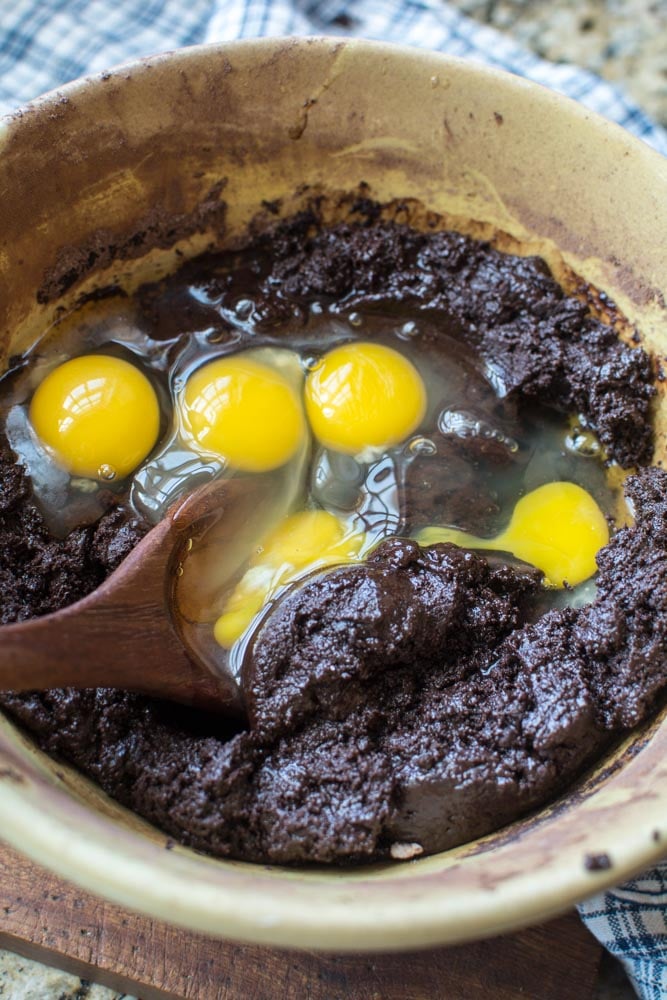 Add eggs and stir just util smooth.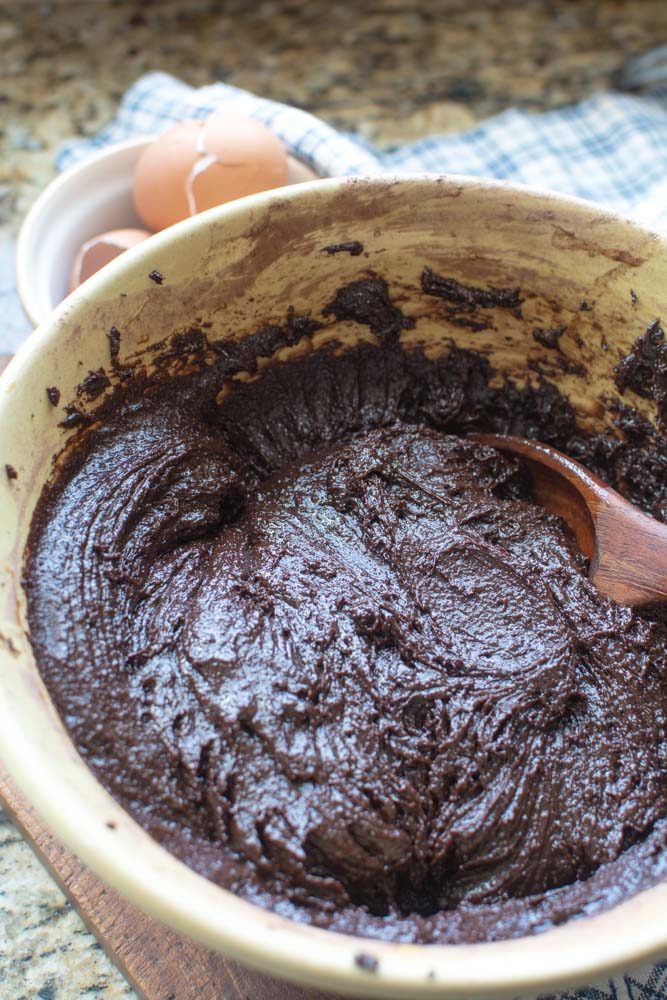 Evenly spread batter in 9 x 13-inch baking dish that has been lined with parchment. If you don't have or want to use parchment, butter and flour bottom and sides of pan. Bake in a preheated 350F degree oven for 30 minutes. Do not over bake. Remove from oven and allow to cool completely.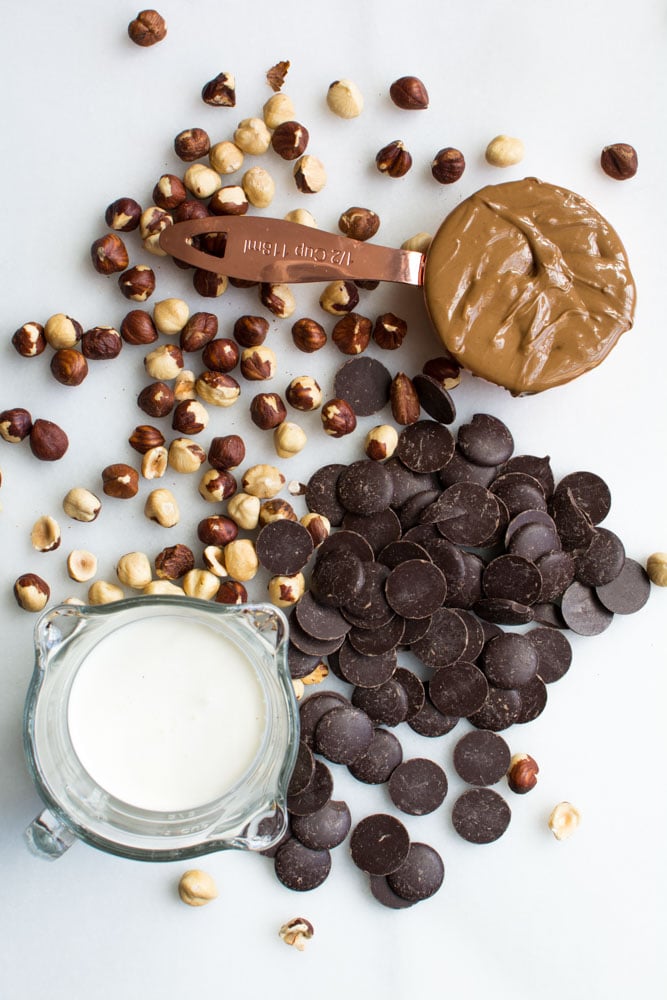 To make the hazelnut ganache and toasted hazelnuts you will need:
1/2 cup raw hazelnuts
1/2 tablespoon butter
few pinches of flaked sea salt (I use Maldon's)
12 ounces semisweet chocolate. One again I'm using E. Guittard 72% semi sweet chocolate
3/4 cup cream
1/2 cup hazelnut paste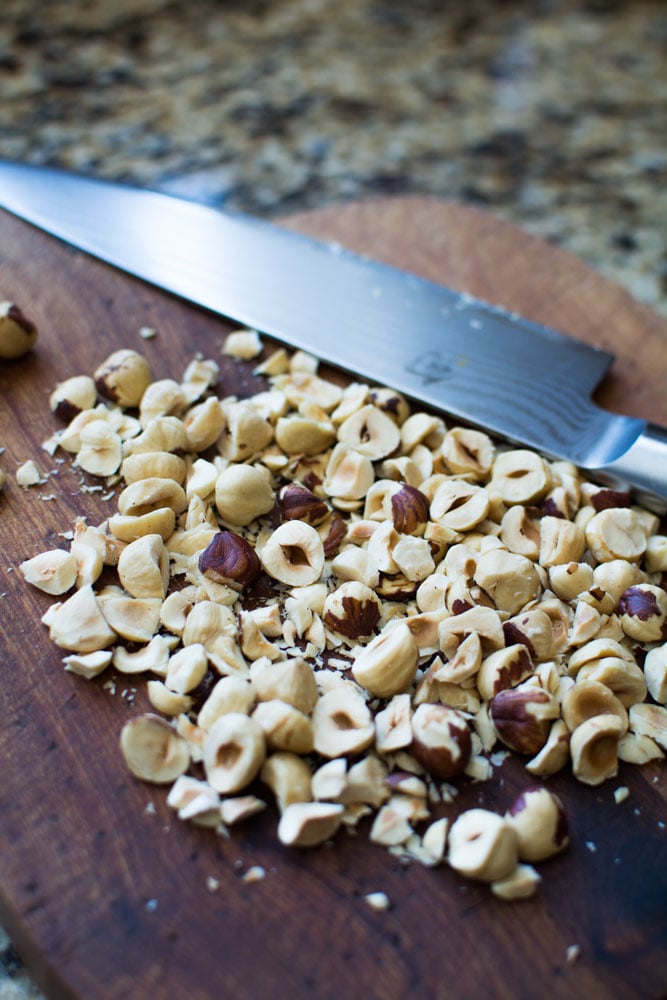 Coarsely chop hazelnuts.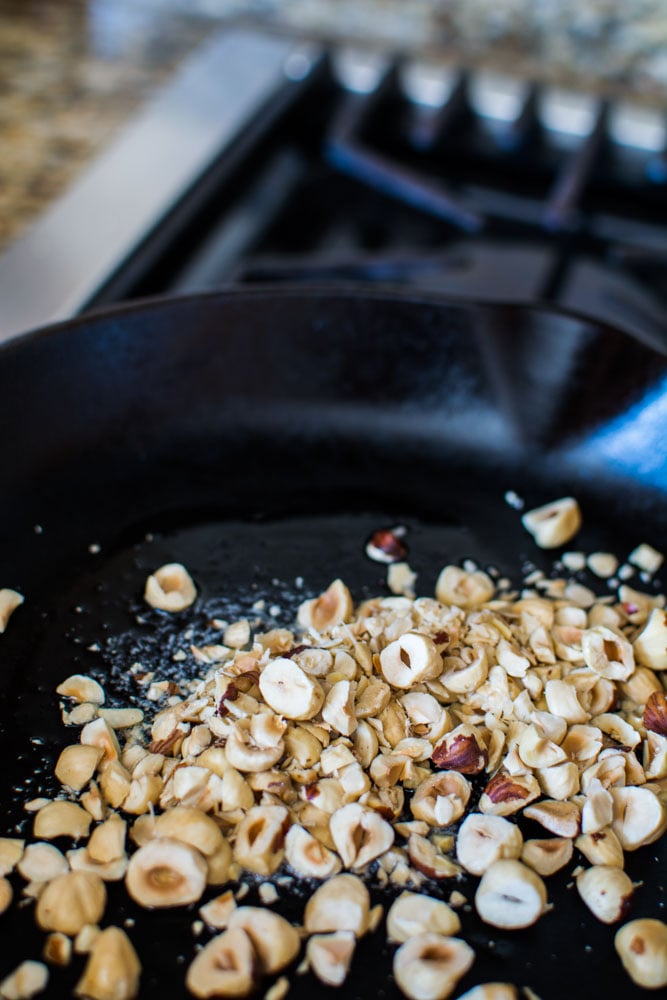 Melt 1/2 tablespoon of butter in a skillet over medium heat. Add hazelnuts, sprinkle with a few pinches of flaked sea salt. Stir hazelnuts until beginning to brown and smell toasted. Remove from heat to cool.
To make the wonderful ganache topping, place a bowl over a pan of simmering water (not a heavy boil). Once the chocolate begins to melt, stir until creamy and smooth.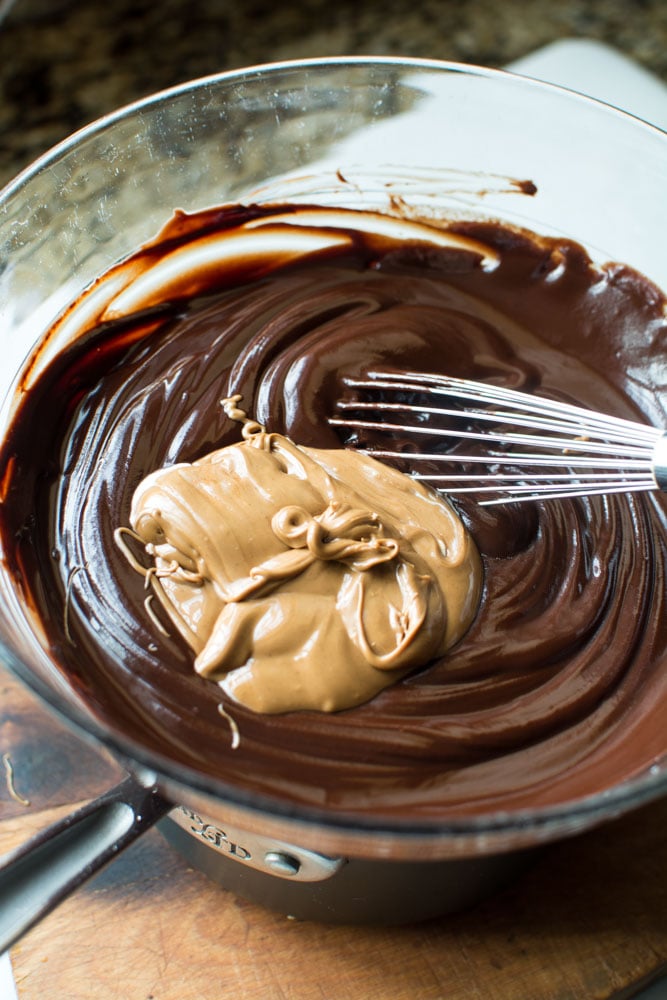 Stir in hazelnut paste.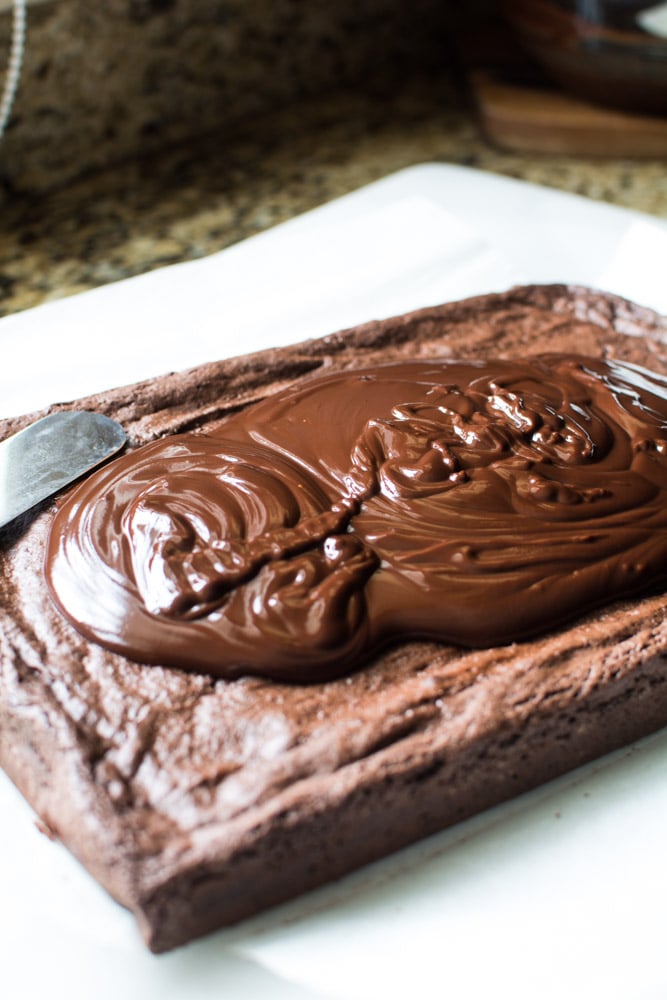 Spread over cooled brownies and sprinkle with buttered hazelnuts. Allow ganache to completely set before cutting, which is really hard. I had to cut a corner off to eat right away, but the ganache would run off if the entire batch was cut into squares. This would defeat the thick "gianduja experience".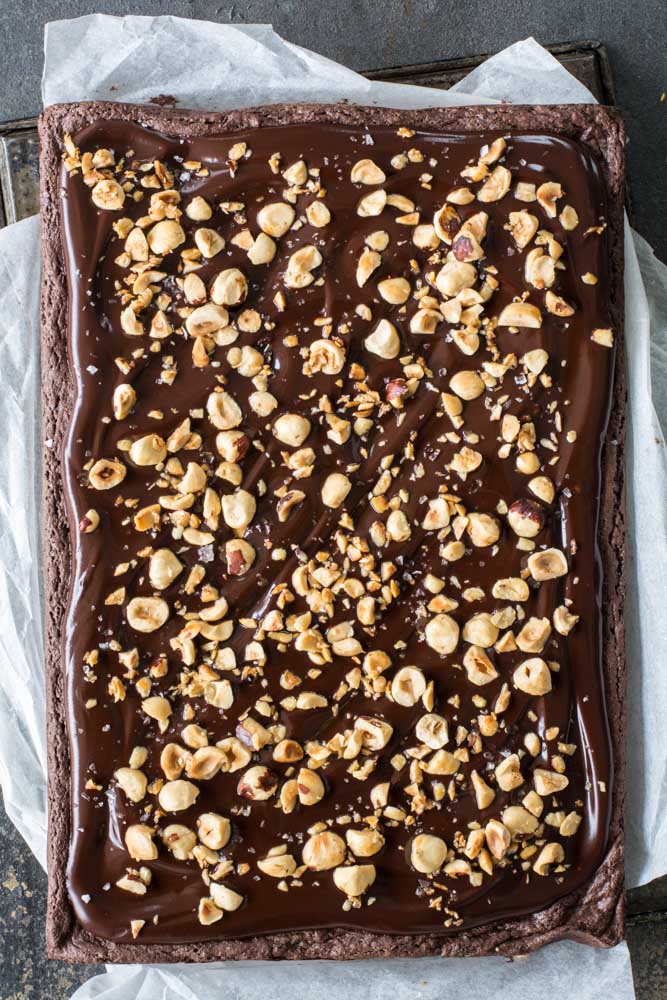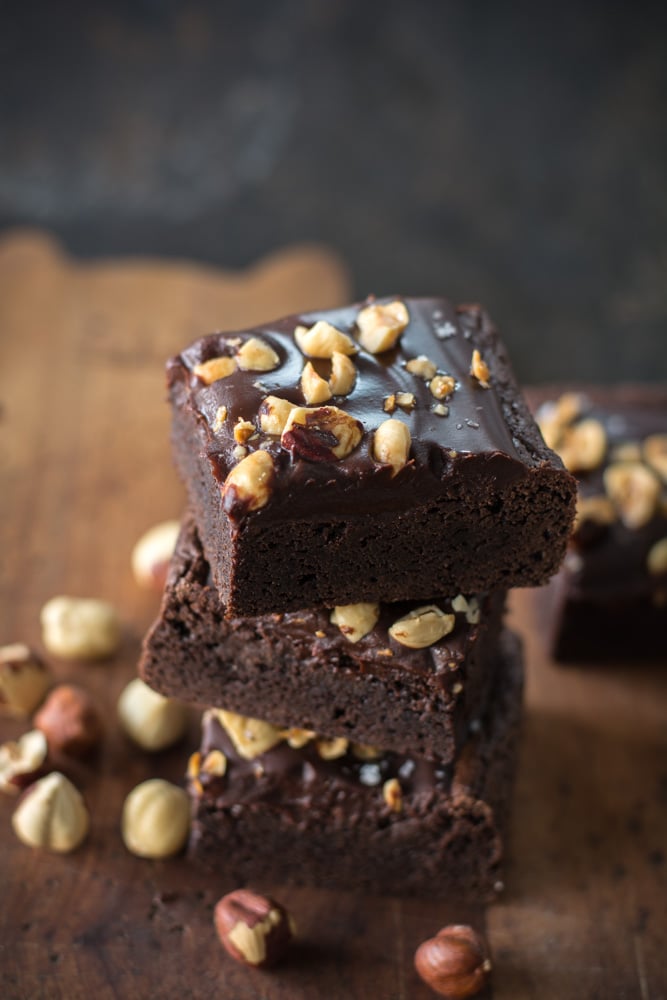 Chocolate and hazelnuts are such an addicting combination for me. I won't tell you how many buttered hazelnut chocolate brownies I have eat while photographing pictures. Let's just say I'm glad I had enough to photograph.
Here's a tip:
If you avoid dairy, no worries. Substitute the butter in the batter with coconut oil and cream in the ganache for coconut milk. It's that easy.
Avoiding nuts and don't want to use Hazelnut paste, substitute 1/2 cup butter in place of hazelnut paste. Just omit completely from ganache.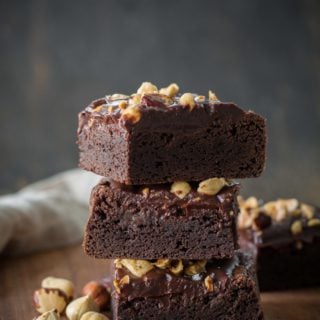 Buttered Hazelnut Chocolate Brownies
If you're a chocolate hazelnut fan, then you'll fall in love with buttered hazelnut brownies
Ingredients
Brownies:
2

cups

sugar

1

cup

flour

1

cup

unsweetened cocoa powder

1

teaspoon

salt

1/2

cup

unsalted butter

melted

1/2

cup

hazelnut paste or butter

4

eggs

1

tablespoon

vanilla
Buttered hazelnuts:
1/2

tablespoon

butter

1/2 - 2/3

cups

hazelnuts

coarsely chopped

pinch

salt
Ganach topping:
12

ounces

bittersweet or semi-sweet chocolate

3/4

cup

cream

1/2

cup

hazelnut paste or butter
Instructions
To make the Brownies:
Line a 9 x 13-inch baking pan with parchment. Set aside and preheat oven to 350F degrees.

In a large mixing bowl, whisk or sift together sugar, flour, cocoa, and salt.

Stir hazelnut paste into melted butter. Pour over dry ingredients and mix.

Stir in eggs and vanilla
Spread evenly into prepared pan. Bake for 30 minutes. Remove from oven and cool completelyButtered Hazelnuts:
In a small skillet melt butter, Add chopped hazelnuts and sprinkle with flaked sea salt. Stir until nuts begin to brown. Remove from heat. Cool.
To make Ganache Topping:
Set a medium size bowl over the top of a small saucepan of simmering water.

Add chocolate, and cream. Allow to sit over steaming water for a few minutes until chocolate begins to melt. Stir until smooth.

Remove bowl from heat and add hazelnut paste. Stir until smooth

Pour over top of cooled brownies

Top with buttered hazelnuts and a sprinkle of flaked sea salt (Maldon)

Allow ganache to firm up before slicing.
Recipe Notes
Hazelnut Praline Paste is preferred, but hazelnut butter spread may be used. Make sure it is as creamy as possible. Hazelnut butter paste will be a bit more gritty.
Hazelnut Praline Paste can be substituted with an additional 1/2 cup butter.
Nutrition Facts
Buttered Hazelnut Chocolate Brownies
Amount Per Serving (36 g)
Calories 178
Calories from Fat 106
% Daily Value*
Fat 11.8g18%
Cholesterol 29mg10%
Sodium 95mg4%
Potassium 0mg0%
Carbohydrates 16.9g6%
Protein 3g6%
Vitamin A 0IU0%
Vitamin C 0mg0%
Calcium 0mg0%
Iron 0mg0%
* Percent Daily Values are based on a 2000 calorie diet.