The perfect summer super. A warm tomato ricotta tart with a light salad on the side. Perfect.
Puff pastry filled with ricotta cheese topped with fresh garden tomatoes.
Simply Perfect.
For the tarts you will need:
1 package puff pastry ready-made sheets
3/4 cup ricotta
1/2 cup – 3/4 cup shredded Parmesan
1 garlic clove, minced
1 large egg
2 tablespoons cream
pinch nutmeg
1/4 teaspoon salt
1/4 teaspoon fresh ground pepper
2 large tomatoes
drizzle of olive oil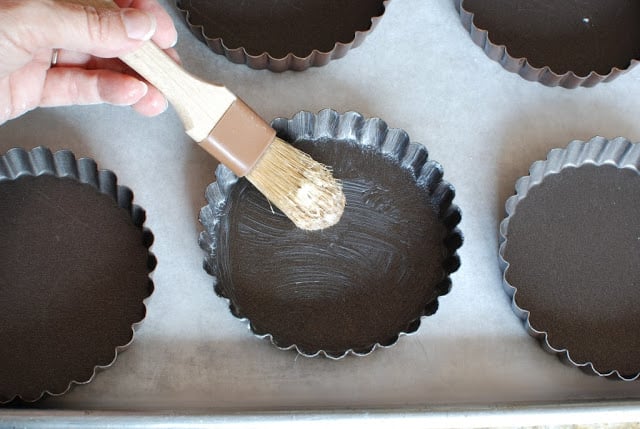 Lightly butter or spray with non-stick cooking spray 6 (4-inch) tart tins. Set aside.
In a mixing bowl add ricotta.
Tip: If you want FABULOUS ricotta and you want to feel extremely domestic, you can make your own fresh buttermilk ricotta.
1 large egg.
1/2 cup Parmesan cheese.
Minced or pressed garlic.
2 tablespoons cream.
Just a pinch of fresh grated nutmeg.
1/4 teaspoons salt.
1/4 teaspoon fresh ground pepper. If you are using canned pepper, only use a pinch.
Mix together until smooth.
Set aside.
Carefully unfold pastry sheet. Place on a lightly floured surface.
Roll into a 10 1/2 x 10 1/2 – inch square.
Cut into fourths.
Place the squares in the prepared tart tins.
Press into the tin.
Trim off excess pastry. I like to roll the rolling pin across the top. It's a quick and simply way to trim the pastry.
Prick the pastry several times with a fork.
Place tins on a baking sheet.
Divide ricotta filling between the tarts.
Top with sliced tomatoes. You can slice the tomatoes as thick or thin. You can even use cherry tomatoes cut in half.
Drizzle with olive oil.
Hmmm…don't know what happened to that pic??
Sprinkle with salt and pepper.
Place in heated 425 degree oven. Bake for 20 – 25 minutes.
Or until golden brown. Remove from the oven and allow to cool for 5 minutes or so. Remove from tin and serve warm.
Impressive, simple, and perfect.