A few of my favorite things (besides the obvious):
Gray wool – I love it as much as George Costanza loves velvet
I love cats. I love every kind of cat
Dark Chocolate 70% or higher – I've been devouring two 70% Theo bars a week
Oatmeal – with an exclusion of instant and quick cooking
What would be my perfect day? Home alone sitting in my favorite chair wearing gray wool with a kitty on my lap eating a bowl of Irish Oats with broken up Theo bars and a drizzle of cream.
With that said…
It was 12 degrees this morning when I laced up my running shoes. The running gals and I had decided years ago that our cut off temperature for running is 8 degrees (I have no idea where we came up with that number) Hooray! The run is on and the ladies will be knocking at my door at 7:00 a.m. My favorite oatmeal is waiting to warm me up approximately 6 miles from now.
One of the best mornings of my life.
I make this oatmeal in one form or another pretty much every morning during the cold winter months. I use whatever fruit I have on hand and whatever nut I feel like that day.
Recipe of the day:
1/2 cup steel cut oats
1 teaspoon butter (optional)
1 1/2 cups water
healthy pinch of salt
1 apple, peeled and diced
1/2 cup fresh cranberries
1 teaspoon butter
1/4 cup toasted walnuts, chopped
2 tablespoons pure maple syrup
Apple pie spices (cinnamon, nutmeg, ground cloves)
Almond milk
I like to start my steel cut oats the night before. I use 1/2 cup oats to 1 1/2 cups water with a pinch of salt.
I like to toast my oats first in 1 teaspoon butter. I love the butter flavor, but you can dry pan roast the oats.
Melt the butter in a small sauce pan.
Add 1/2 cups steet cut oats.
Stir over medium heat until the oats begin to toast. You will begin to smell the toasting. I love the smell.
Add 1 1/2 cups hot water.
And a healthy pinch of salt.
Bring to a simmer. Cover and remove from the heat. Let stand overnight.
The next morning, remove the lid and the oats will just need to be reheated then they are ready to eat.
I like to add 1/4 cup almond milk.
Let the oats simmer over low heat while making the compote topping, which will make your mouth water.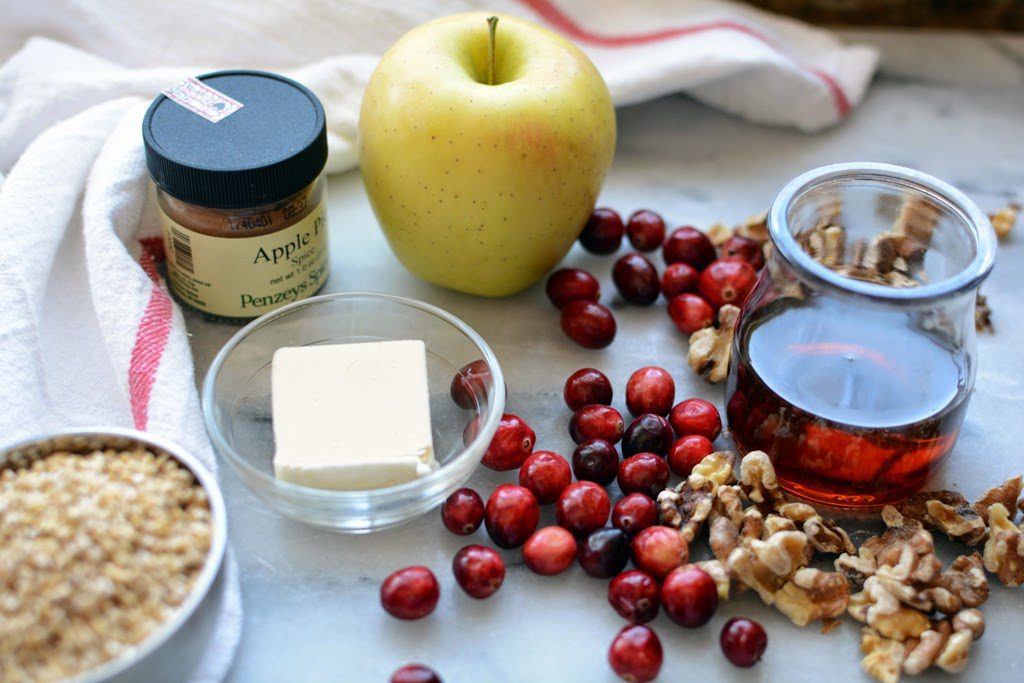 This is what I'm using this morning.
1 golden delicious apple
1/2 cup fresh cranberries, sorted through to take out the shriveled nasty ones.
1 teaspoon butter
1/2 teaspoon apple pie spice
1/4 cup toasted walnuts, which I just happen to have on hand.
Peel and core the apple.
Dice.
Melt 1 teaspoon butter in a small skillet.
Add the apples and cranberries.
Stir to coat the fruit.
Add apple pie spices.
Add 2 tablespoons pure maple syrup.
Bring to a simmer and cover for about 5 minutes.
After about 5 minutes the juices will start to flow.
Add the walnuts.
Stir to coat the walnuts. Done!
Pour half of the oats in a bowl and top with the hot apple cranberry compote.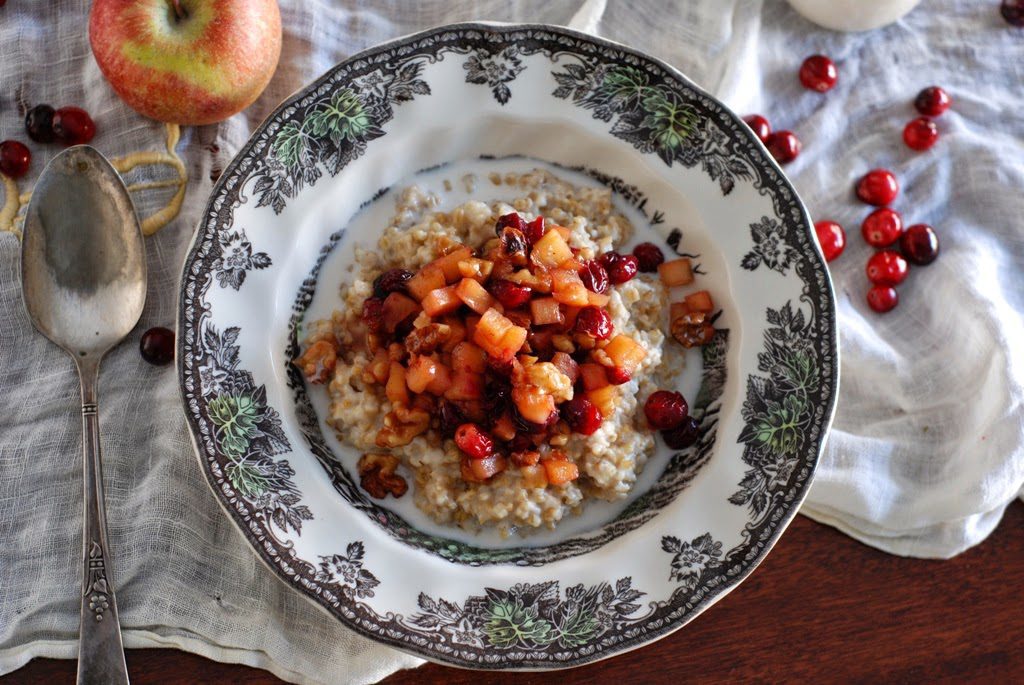 I like to drizzle a bit more almond milk over top.
Heaven!
Now where's my kitty?