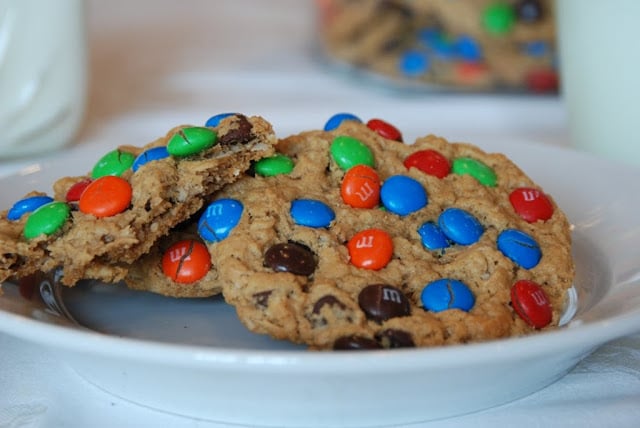 Mmmmmmonster cookies. Love 'em! I don't know why I'm starting with these? Probably because I was baking them for my daughter to take with her to college one weekend. I figured her roomies would love to chew on these for a few days with a glass of milk. Should help add to the freshman fifteen.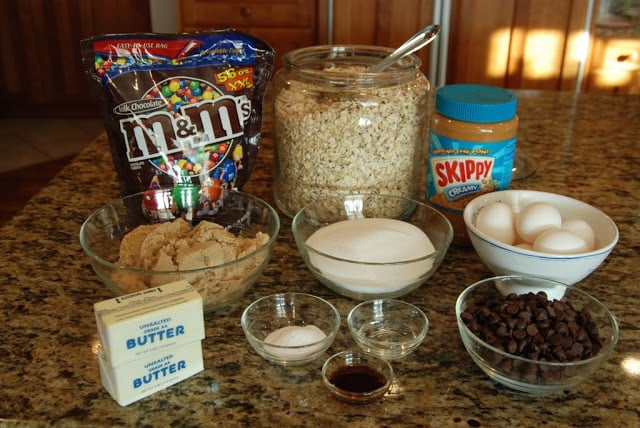 Monster cookies ingredients.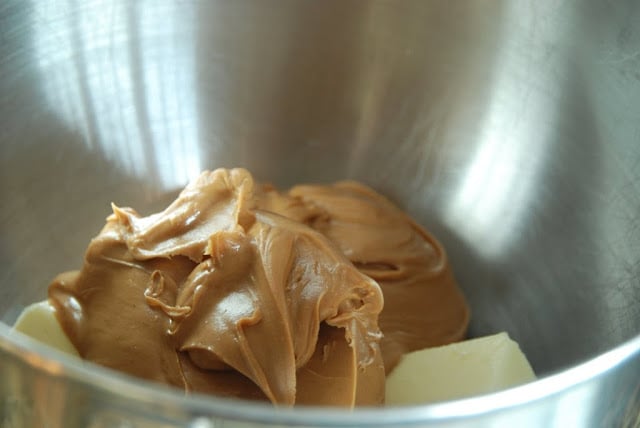 In a large mixing bowl blend the butter and peanut butter together until nice and creamy. Did you notice that I said butter. I should probably let you know up front that in my opinion there are no substitutes for butter. So in all my future recipes butter means butter NOT margarine or shortening. Enough said.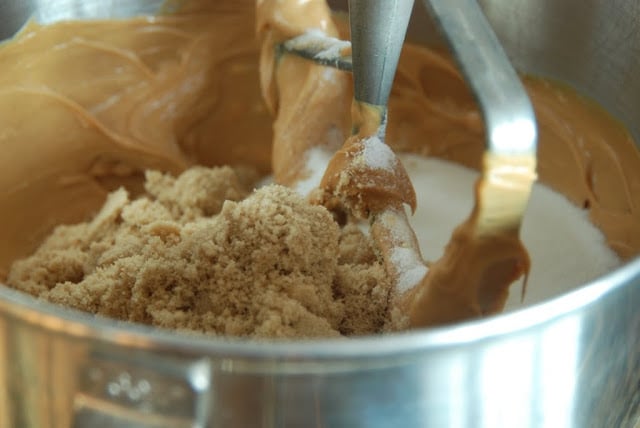 Blend in the sugar and brown sugar until it's nice a smooth.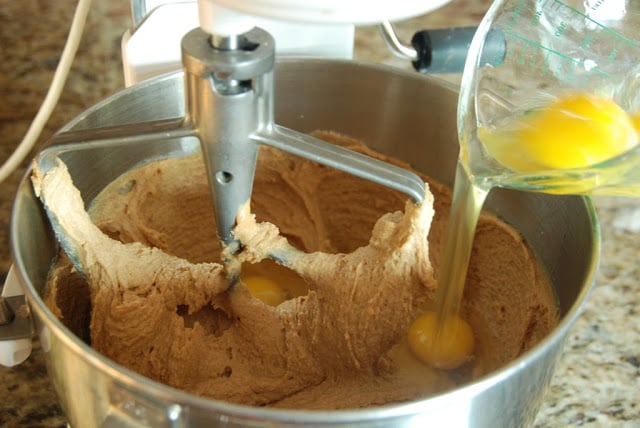 Mix in the eggs, corn syrup and vanilla.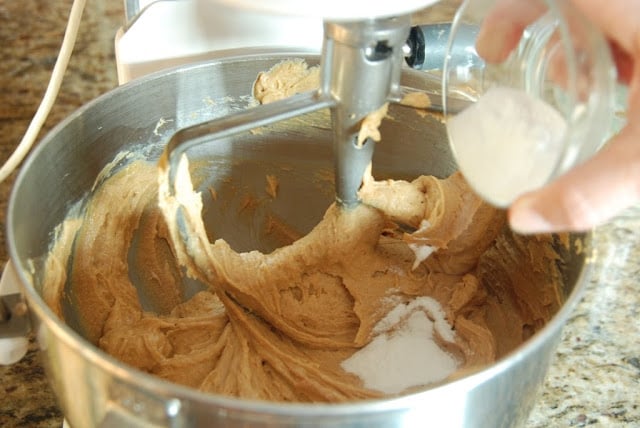 Don't forget the baking soda.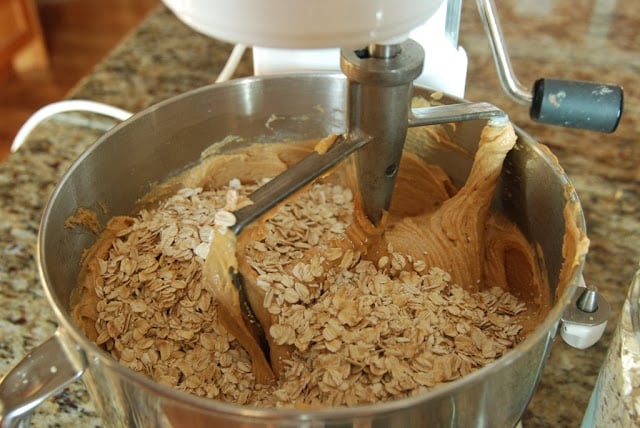 Now you're going to add all 9 cups of the oatmeal. I prefer to use the "old fashioned rolled oats". They make the cookie much more chewy. No, I didn't forget the flour. This recipe does not call for flour – yes, it works!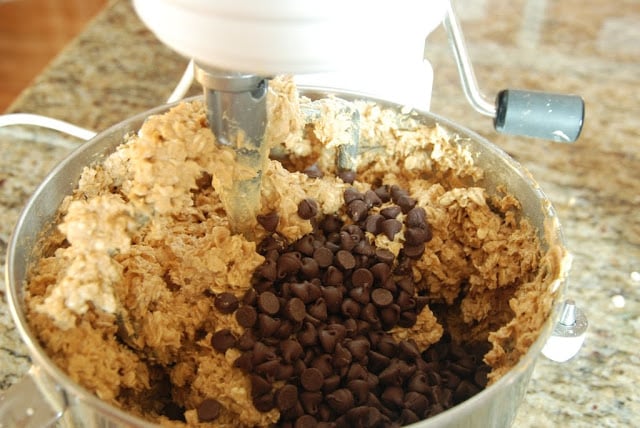 Now mix in those semi-sweet chocolate chips.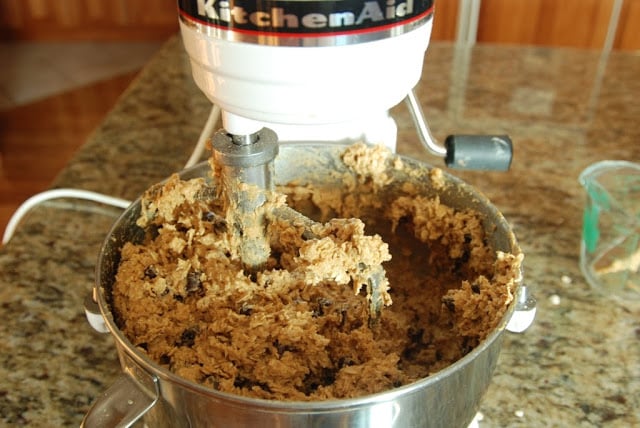 Mix those chocolate chips in well. This is a very large batch of cookies. Make sure your bowl is large enough to handle the batter. I'm using a 6 quart kitchen-aid mixer and it completely fills the bowl with some spilling over, which is a good thing because whatever falls out I get to eat! This dough is fabulous as is.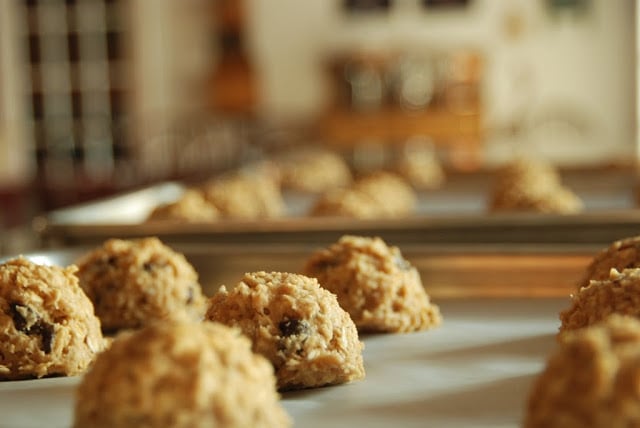 I use an ice cream scoop to measure out my cookie dough. I think it's probably a good two tablespoons of dough. I like my cookies big and these are monster cookies. I like to place them on parchment lined cookies sheets. Less clean up with the parchment. Love it. After you have scooped the cookies onto the cookie sheets just press the dough down a little with your hand. I guess you could use the bottom of a glass, but I think the hand works just fine.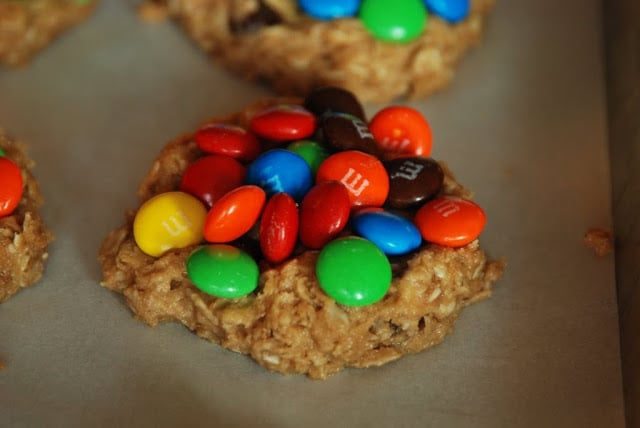 Now you've got to load these babies with a ton of M & M's. I just take a handful and smash them on. I make sure that not one more M & M could fit on top. Because when they cook they will spread out and you definately want a M & M in every bite! Place them in the oven and bake for about 10-12 minutes until they are barely starting to brown around the edges.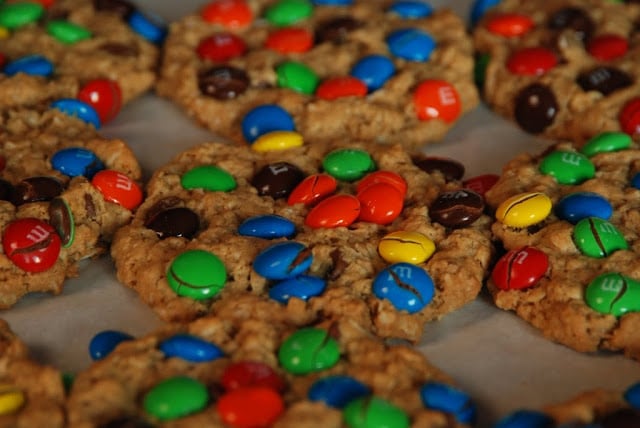 See how much they spread out. Look I could have fit on MORE M & M's.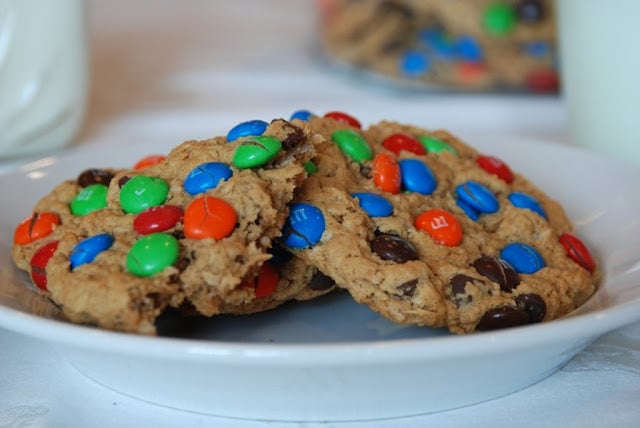 Mmmmonster cookies. I like to make these monster cookies for our somewhat annual Timp hike. They are a great energy cookies with the mixture of peanut butter, oatmeal and chocolate. Funny story – a friend, who was dieting, asked me for the recipe for my "energy cookies". I told her that even though they would give her energy they were still loaded with FAT and sugar! Butter, peanut butter, come on. She was so disappointed.
Monster Cookies
Giant chewy peanut butter oatmeal cookies topped with colorful M&M candies.
Servings
72
large cookies
Ingredients
1

cup

butter

3

cups

peanut butter

2

cups

sugar

2

cups

brown sugar

1/2

tablespoon

corn syrup

6

eggs

4

teaspoons

baking soda

1 1/2

teaspoons

vanilla

9

cups

oatmeal

old-fashioned

1 1/2

cups

chocolate chips

2

lbs.

M & M's

plain (or candy-coated chocolate pieces)
Instructions
Preheat oven to 350 degrees. Spray cookie sheets with nonstick spray or line cookie sheets with nonstick parchment paper or silpat liners. Set aside.

In a large mixing bowl blend butter and peanut butter. Add sugar and brown sugar until smooth for 2-3 minutes. Mix in eggs, corn syrup, and vanilla. Stir in baking soda. Add oats and chocolate chips.

Using a medium-sized ice cream scoop, drop cookie dough onto an ungreased or parchment-lined cookie sheet. Flatten the dough slightly with your fingertips. Place a handful of M&M's on top of each cookie pressing into the dough.

Bake for 10-12 minutes or until barely browned. Let cool on the cookie sheet for 5-6 minutes before transferring it to a cooling rack.
Recipe Notes
NOTES:
This is a huge recipe and makes 72 large cookies. The recipe can be easily cut in half. For smaller cookies use 2 tablespoons of dough. Form into a ball and place on a prepared cookie sheet.
For gluten-free cookies be sure to use gluten-free oatmeal.
I use old-fashioned rolled oats because I love the chewy texture. Quick-cooking oats can be used as well.
M&M's can be substituted with any candy-coated chocolate pieces or omitted altogether.
If using a large-size ice cream scoop bake for 14-16 minutes.
Nutrition Facts
Monster Cookies
Amount Per Serving (1 cookie)
Calories 240
Calories from Fat 117
% Daily Value*
Fat 13g20%
Cholesterol 23mg8%
Sodium 147mg6%
Potassium 95mg3%
Carbohydrates 29g10%
Protein 4g8%
Vitamin A 135IU3%
Vitamin C 0.1mg0%
Calcium 35mg4%
Iron 1mg6%
* Percent Daily Values are based on a 2000 calorie diet.