Fresh Zucchini Salad with Lemon-Mint Dressing is made with ribbons of raw zucchini blended with fresh greens, herbs, and microgreens drizzled with a fresh lemon mint vinaigrette and shards of Parmeggiano Reggiano.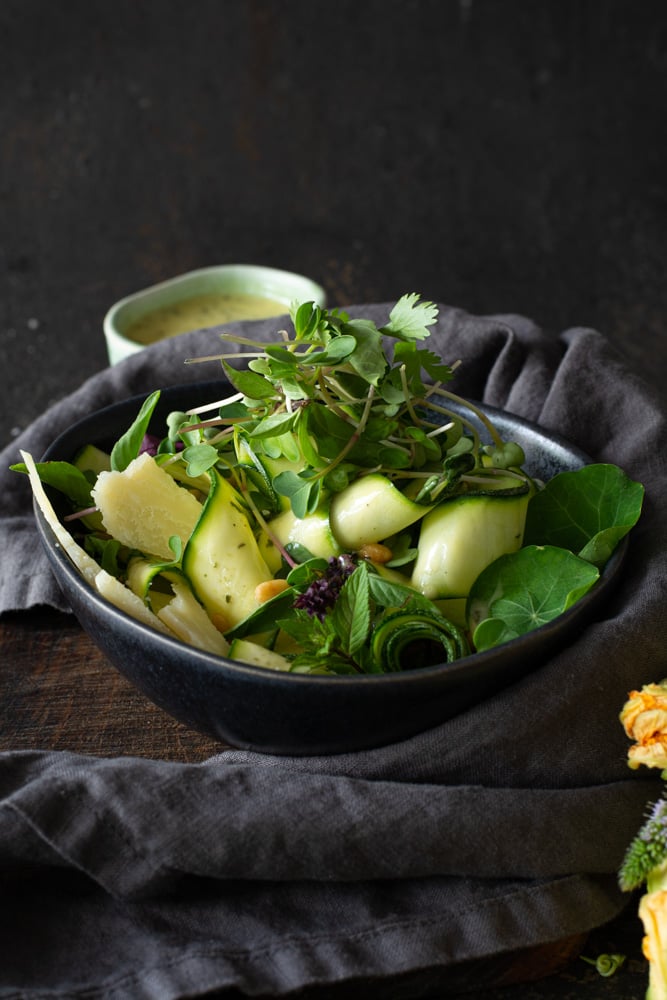 Got Zucchini?
Raise your hand if you have more zucchini than you know what to do with! If you are a home gardener and plant just one zucchini plant, chances are you have baskets of zucchini. What on earth do you do with several pounds of zucchini? More than likely you have tried one or more of the following:
Baked Zucchini Crisps
Zucchini Chips
Parmesan Zucchini wedges
Oodles of Zucchini Zoodles
Zucchini Casseroles 🤮
Muffins (yum)
Cakes (Chocolate please)
+thousands of other recipes. The list can go on and on.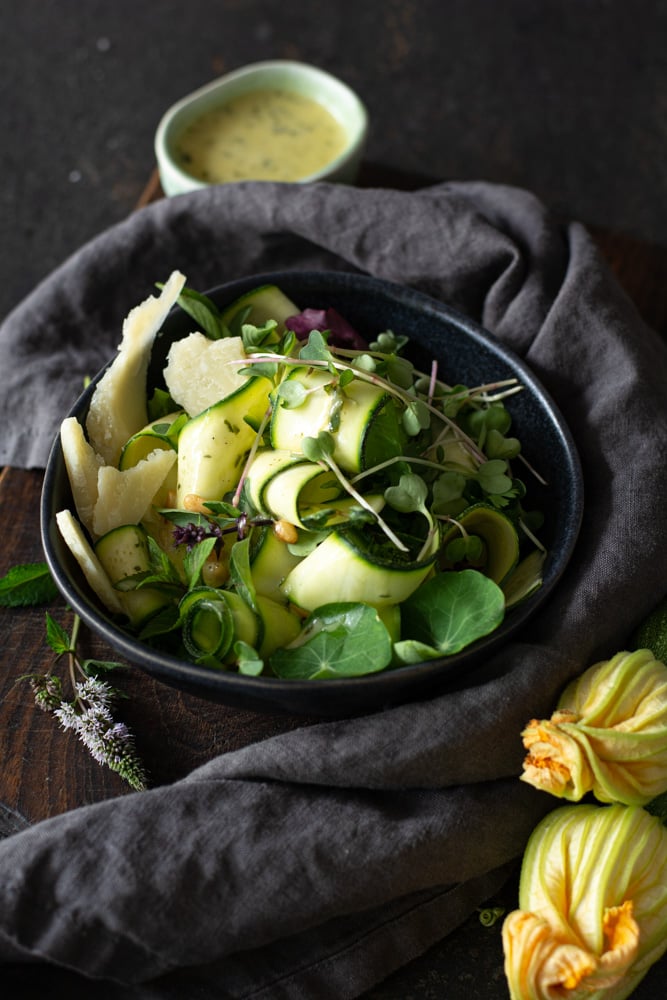 Hiding Zucchini In a Recipe
Have you tried this trick? My husband gets physically ill at the mention of the "Z" word. He used to pick it out of his mother's garden and throw it onto the roof of his house just so she wouldn't make him eat it. Now that's extreme! I have learned over the years that there are several ways to hide and disguise zucchini that even the finickiest eater will never detect.
Grating raw zucchini into a tomato sauce is magical.
Grated raw zucchini moistens cakes and muffins.
Finely diced zucchini into chorizo for tacos is a winner.
Frozen chunks of zucchini can easily be tossed into a fruit smoothie.
Once again the list can go on and on with a zillion ways to disguise zucchini.
Fresh Zucchini Salad

Have you ever tried raw zucchini? You are in for a treat with this recipe for a refreshing, bright, and healthy salad. Ribbons of zucchini become the star of this salad tossed with an addictive lemon-mint vinaigrette.
Pick young zucchini that is 3-5 inches in length. If the beautiful blossom is still intact, save it and toss it into the salad.
Using a vegetable peeler or mandolin, slice thin ribbons of zucchini running lengthwise of the zucchini.
Use a blend of fresh leafy greens. I'm lucky enough to have fresh organic greens delivered to my home from Snuck Farm in Pleasant Grove, Utah. Fresh, organic, and delicious.
Choose your favorite fresh herbs. Try a blend of fresh basil, opal basil, Thai basil, chives, cilantro, dill, parsley. Toss in edible flowers and greens like nasturtium or pansies.
Top with a pile of your favorite microgreens. I'm using radish microgreens from Snuck Farm. They are always so crisp and fresh.
Lemon-Mint Vinigrette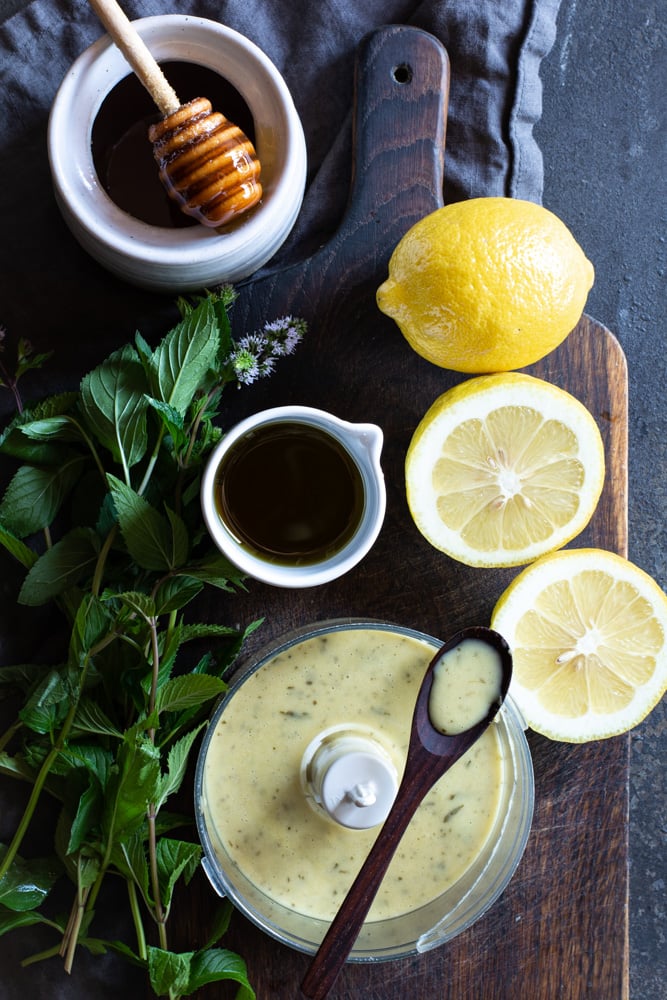 This Lemon-Mint dressing is so good you can eat it with a spoon…and I did!
Juice 1 lemon and pour it into the bowl of a small food processor or blender.
Add the olive oil, dijon, mint, honey, salt, and pepper and give it a blitz until the fresh mint is finely chopped.
Can be made a day in advance. Refrigerate until ready to use.
Assemble the Salad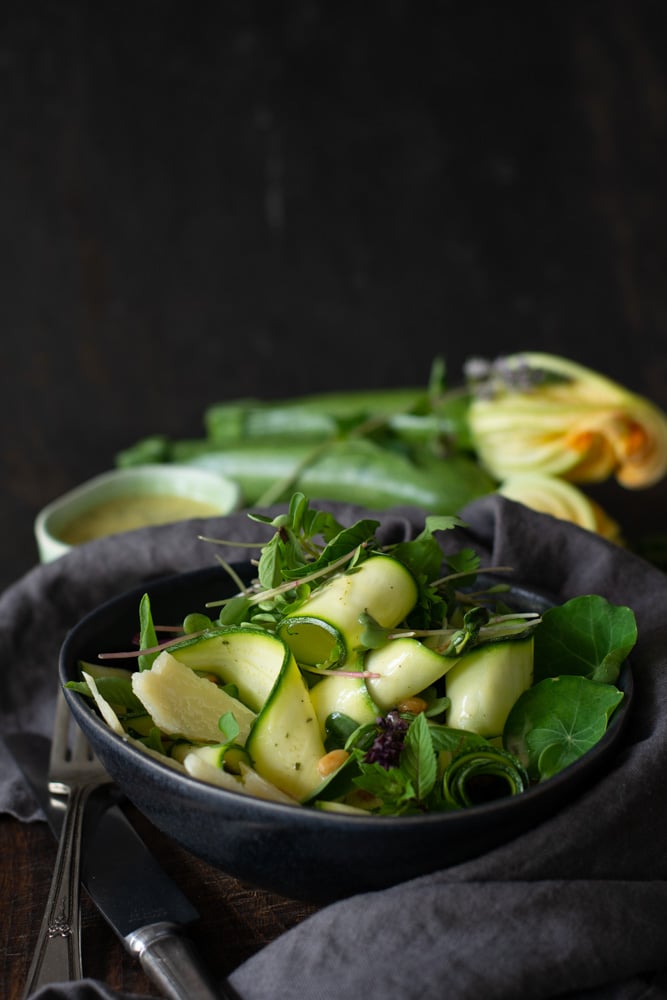 Toss the leafy greens and herbs with a drizzle of the Lemon-Mint dressing and arrange in a salad bowl or a platter. On top of the greens, arrange the ribbons of zucchini and then drizzle with more of the dressing. Top with a sprinkle of toasted pinenuts, microgreens, and shards of Parmigiano Reggiano. Devour! 😋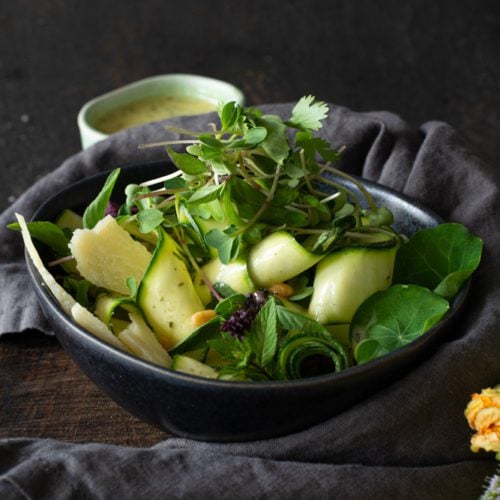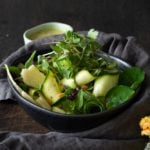 Fresh Zucchini Salad with Lemon-Mint Dressing
Fresh ribbons of zucchini blended with fresh greens, herbs, and microgreens drizzled with a fresh lemon-mint vinaigrette.
Ingredients
Zucchini Salad
3-5

small zucchinis

3-5 inches in length

3-4

cups

Leaf lettuce

1/2

cup

fresh herb mix

such as basil, Thai basil, dill, mint, cilantro, nasturtium leaves, and blossoms

1

cup

microgreens

I used Radish

Parmegiano Reggiano

cut into shards or chunky shreds

2

tbsp

Pine nuts

lightly toasted
Lemon-Mint Citrus Vinaigrette
1/4

cup

extra virgin olive oil

1/4

cup

fresh squeezed lemon juice

3

tablespoons

fresh mint leaves

2

tablespoons

honey

1

dijon mustard

heaping

1/8-1/4

tsp

sea salt

Fresh ground pepper
Instructions
Zucchini Salad
Using a vegetable peeler or mandolin, make long ribbons of zucchini. Toss 2 tablespoons of dressing with the zucchini ribbons. In a large salad bowl add salad greens and fresh herbs, top with the zucchini ribbons and microgreens. Drizzle with an additional 2 tablespoons of dressing or as desired. Serve immediately. Makes 3-4 servings
Lemon-Mint Vinaigrette
Blitz all the ingredients in a small food processor or blender until smooth and the mint leaves are finely minced.
Nutrition Facts
Fresh Zucchini Salad with Lemon-Mint Dressing
Amount Per Serving (1 serving)
Calories 219
Calories from Fat 126
% Daily Value*
Fat 14g22%
Sodium 136mg6%
Potassium 1110mg32%
Carbohydrates 21g7%
Protein 7g14%
Vitamin A 14663IU293%
Vitamin C 100mg121%
Calcium 119mg12%
Iron 4mg22%
* Percent Daily Values are based on a 2000 calorie diet.
More Winning Recipes with Zucchini