A few years back college son #2 started having Churro and Hot Chocolate parties during the winter. With great success I might add. He would make spiced, rich hot chocolate for his friends to dip their sugar and cinnamon crusted churros into. What an awesome combination.
I really try not to eat deep fried foods. So, I just didn't go there because I knew I'd love it and over indulge. Last month I received my "Cuisine at Home" cooking magazine and there was a recipe for "Churros and Hot Chocolate". What the heck! It's the holidays and anything goes for one month. One Sunday evening when everyone was home we whipped up a batch and slurped and savored. What a fun thing to do with the family on a relaxed Sunday evening.
If you have never tried Churros dipped in rich hot chocolate, you are in for a treat.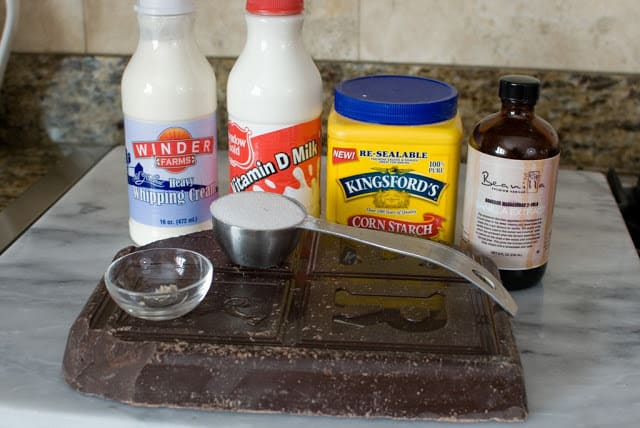 For the hot chocolate you will need, whipping cream, whole milk, cornstarch, sugar, pinch of salt and vanilla.
I'm going to make a note right here regarding the cream and whole milk. This is what the recipe calls for, but I don't use whole milk and I was out of cream so I used 2% and could not tell that much of a difference. The cornstarch thickens the milk so you think you are drinking melted chocolate, but you're not.
You can think that one through.
I had about 5 lbs of dark chocolate left over from my dipping last month, so I thought that I'd use that. I chopped up 4 oz. off of my big bar.
HOWEVER!!! After tasting the hot chocolate I determined that it lacked real deep chocolate, which is what I wanted. I had a reserve stash of "Amano" chocolate. We say "Amano Chocolate" with reverence in our home. We love the flavor that much.
The dipping chocolate that I was using was about 55% dark. I personally would recommend you using something darker in the 70% or higher. The better the chocolate you use the richer the flavor in your hot chocolate will be.
With that said…
I a medium size saucepan heat cream and add sugar. Stir until the sugar dissolves and the cream begins to steam.
Add 2 teaspoons of cornstarch to the 1 cup of whole milk.
Whisk the cornstarch and the milk together.
Add the milk mixture to the cream mixture and cook for about 1 minute stirring constantly.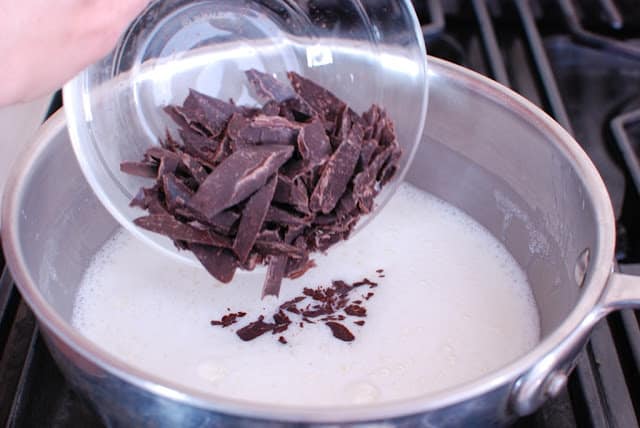 Add your choice of chocolate. Stir until the chocolate melts and is blended well with the milk mixture.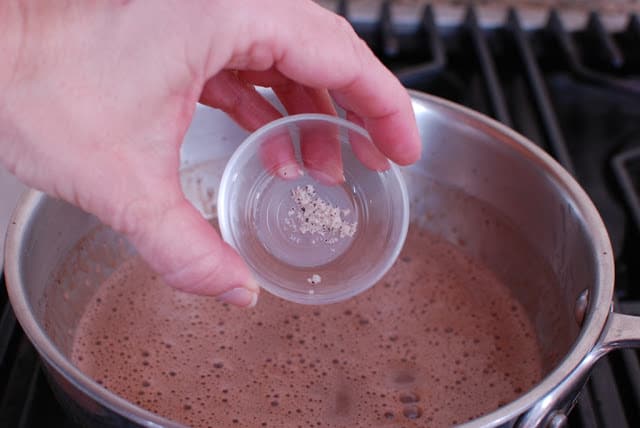 Add just a pinch of salt. Salt really brings out the flavor of chocolate. I'm using some sea salt that I have that has ground vanilla bean in it. I have it left over from my chocolates as well. Delightful stuff I must admit.
Add about 1/2 teaspoon vanilla. I like the real stuff.
If I am going to hold the chocolate for a while, I like to put it into a double boiler over a low simmer. This way the hot chocolate will stay hot without scorching.
You can actually make this a couple of days in advance and cover it with plastic wrap and store in the refrigerator. The reheat before serving.
Set the hot chocolate aside.
Now for the churros. You will need water, flour, eggs, butter and salt.
You will, also, need a pastry bag and a large star tip.
This tip is about 1/2-inch wide at the tip. It is an Ateco brand #824.
It's a big tip about 2-inches high.










































Add water to a medium size saucepan.
Add the butter and bring to a boil over medium-high heat.
When the butter has completely melted add the flour all at once.
Add the salt.
Quickly stir the flour into the water mixture.
The mixture will form a ball. Continue to cook for another minute stirring constantly.
Transfer the mixture into a mixing bowl.
Mix for about 30 seconds. This will help cool the dough so that when you add the eggs they won't cook. That would be bad.
Add the eggs one at a time and beat well after each additon.
After the first egg is complete mixed into the flour mixture…
…add the other egg.
Continue to beat until the egg is completely incorporated into the dough.
The dough should be smooth and have a satin appearance.
Now you need your pastry bag and star tip.
I think it helps to put the pastry bag into a tall glass to fill.
Put the dough into the bag.
Push the dough to the end of the bag and twist the end of the bag closed so the dough doesn't ooze out the bottom.
Line a baking sheet with a couple of layers of paper towels.
Put the sugar and cinnamon on a shallow plate or bowl.
Whisk together.
Now in a large heavy pot heat about 2-inches of oil and heat to 350 degrees.
Pipe dough into hot oil. With an oiled knife cut off about 3-inch lengths and fry.
I can't show you how to do that because I would need three hands to do it all. You should be able to figure it out.
Fry the dough in the hot oil for about 4 minutes. Turning over until the dough is browned on all sides.
Remove the fried churros and drained on paper towel.
Then immediately roll in the sugar cinnamon mixture.
Make sure the entire churro is coated with the sugar and cinnamon.












































Repeat the process until you have fried all of the dough. This makes about 20-24 churros.
**Note: The hot chocolate is extremely rich. I serve it in demitasse cups. They hold about 2 ounces, which seems to be plenty. Most people will eat 3-4 churros.
Notice how the thick chocolate coats the churro.
I need a manicure!






Churros and Hot Chocolate


For the Hot Chocolate:
1 cup heavy cream
1/4 cup sugar
1 cup whole milk
2 teaspoons cornstarch
4 oz. semisweet chocolate, finely chopped
1/2 teaspoon vanilla
pinch of salt
For the Churros:
1/2 cup sugar
1 teaspoon cinnamon
4 tablespoons unsalted butter
1/2 cup water
2 teaspoons sugar
1/4 teaspoon salt
3/4 cup all-purpose flour
2 eggs
oil to fry the churros
Hot chocolate: In a small saucepan heat cream and sugar until sugar has dissolved. In a measuring cup or small bowl, which together milk and cornstarch, then slowly pour into the pan with cream and sugar; bring to a simmer and cook 1 minute whisking constantly. Add chocolate and whisk until smooth. Stir in vanilla and salt; set aside.
Churros: Combine sugar and cinnamon together in a wide shallow bowl or dish; set aside.
Heat butter, water, 2 teaspoons sugar and salt in a saute pan over medium heat. When mixture begins to boil, stir in flour until dough pulls away from sides of pan. Cook 1 minute more; transfer to a bowl.
Beat dough for 30 seconds with a hand mixer on medium speed. Beat in eggs, one at a time, until incorporated and dough is shiny before adding the next. Transfer dough to a piping bag fitted with a medium star-shaped tip. Let dough cool slightly.
To cook the churros. Heat a large heavy pan with at least 2-inches of oil. Heat oil to 350 degrees. Pipe 3-inch long strips of dough into hot oil. . Slice dough from end of piping tip with a knife dipped into frying oil. Fry churros until golden brown on both sides, about 4 minutes total, then remove from oil and drain on a paper-towel-lined plate. Immediately coat churros in sugar cinnamon mixture.
Serve Churros and hot chocolate immediately.
*Makes enough hot chocolate to serve 10, but it only makes enough churros for about 6. I find that everyone eats 3-4 churros. If you are serving a large crowd over 6, double the churros dough recipe. (recipe inspired by Cuisine at Home)
**Hot chocolate can be made a few days in advance then reheated prior to making churros.
Time for a Churro and Hot Chocolate Party!