This has to be the easiest and the most moist salmon I have ever made.  I forgot to mention unbelievably delicious.
I purchased a package of Northern Cedar planks from Provisions.  The cedar plank infuses the salmon with a subtle flavor of smokey cedar.  I was in love with my first bite.
I have tried other cedar planks to find splinters of the wood in my salmon.  I personally don't need the fiber.
I love the natural, rustic look of the wood planks.  I'm not being paid to promote the cedar planks.  This is not an advertisement in any way.  I just love this product.  Of course you can use what ever cedar planks are available in your area.  I just like to pass on the love.
This recipe is so simple.  It will blow your mind away with your first bite wondering how much flavor the salmon has with such little effort.
First things first.  The cedar plank must be soaked in a liquid for at least 30 minutes.  The salmon will absorb the moisture from the plank creating heaven.
I'm using water, but you can use any liquid you choose from juices to wine.
I decided to infuse the water and plank with some fresh dill.  I used fresh thyme and loved it.
I'm adding slices from one lemon.
The plank likes to float.  Placing a heavy object on top will hold the plank down.  Set aside for 30 minutes or so.
After the planks have soaked remove them from the liquid and place the salmon fillets on the plank.    I have fit as many as three on the plank.  It just all depends on how large the salmon fillets are.
Sprinkle salmon with a little sea salt.
Add a bit of fresh ground black pepper.
I found this spice at a new Wholefoods that just opened up not far from my house.
I'm in love with the guy at the fish counter.  I've stopped by three times in 5 days for fresh seafood.  The halibut steaks he persuaded me to buy with AMAZING!  I text my husband the other day and told him I was at Wholefoods AGAIN and I was moving in.  I love a new fabulous food store.  Everything is so clean and fresh. I hope it doesn't change.
I'm sprinkling just a bit on the salmon.  It's pretty much a mix of paprika, sea salt, a little dill and a pinch of chipotle.  The chipotle is very, very subtle, which I like because I want the flavor of the cedar to come through more than the heat of chipotle.
Personally I think just a little salt and pepper is all that is needed.
Top with a few lemon slices.
And a few sprigs of some fresh herbs.  I'm using fresh dill.
Place on a preheated grill that is between 350 – 400 F.  If the grill is too hot, the plank could catch on fire.
I closed the lid on my grill and cooked the salmon for 10-12 minutes.
I know the salmon is cooked by the white milky juices that start to ooze out of the salmon and onto the plank.  I prefer my salmon just a bit under cooked because it will continue to cook while it's on my plate.  If it lasts that long.
This is a fancy, schmancy entree in just minutes.  The salmon is light and so good for you.  No pan frying here.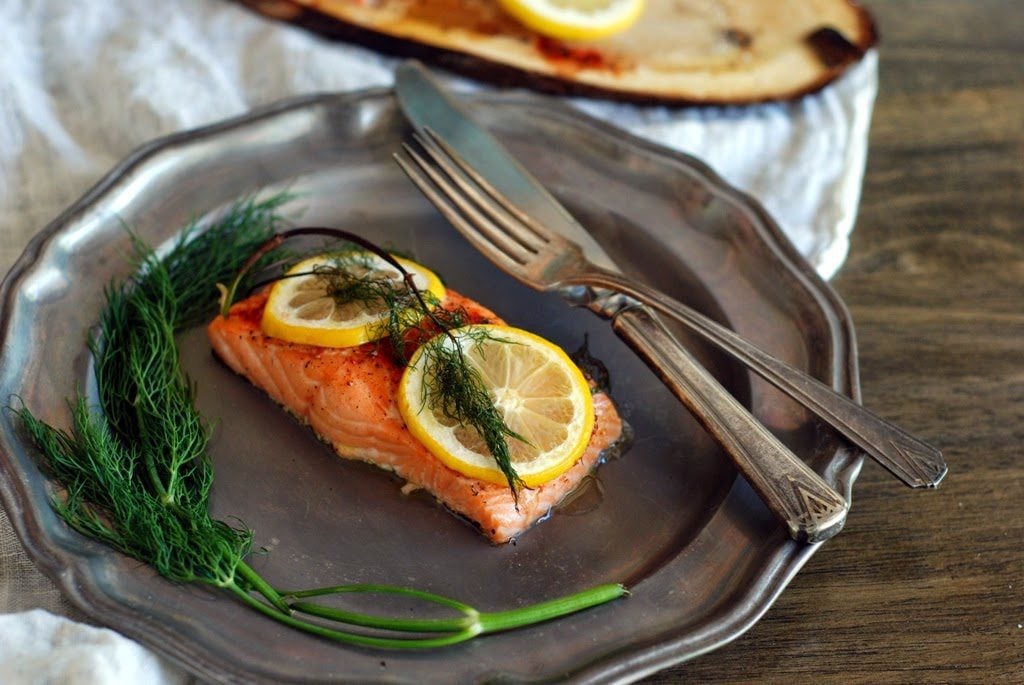 I'm thinking Father's Day.
Salmon…just plank it!  Did I ever mention the time my husband and I planked TRAX, our local transit light rail train?  It was on a dare from some teens we were with.  We planked across the isle on the seats.  I so planked that baby.  I wonder what happened to those pics….