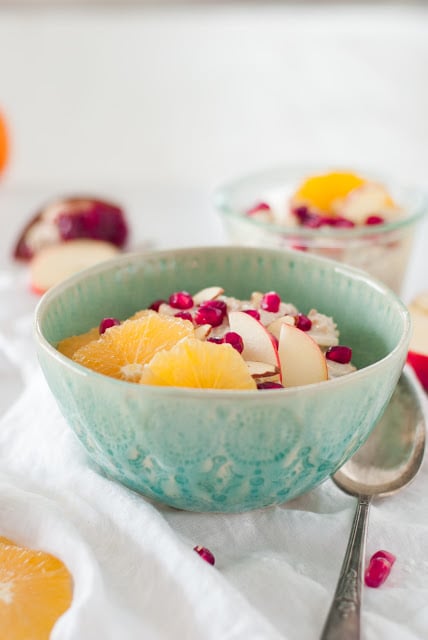 Raise your hand if you love Bircher Muesli or soaked oats. I do!
Raise your hand if you ate like it was your job over the holidays. Both of my hands are high in the air. Thank heavens there is a January. The month of new beginnings and resolutions. A chance to eat healthy once again and never binge on chocolates, cookies, steamed puddings, and other wonderful temptations of the season. Ha!
After Christmas I started making Bircher Muesli or Soaked Oats topped with any seasonal fruit I could find. My options are the last remaining Honeycrisp apples, oranges from Arizona that my dear sister brought me, and pomegranates. Can you believe I think I personally ate 10 pomegranates during the month of December. I love them and don't mind picking the seeds from my teeth at all. Each pomegranate that I open is a new adventure as I pick out the little arils that just burst in my mouth. I just can't think of anything I can't top with pomegranate arils.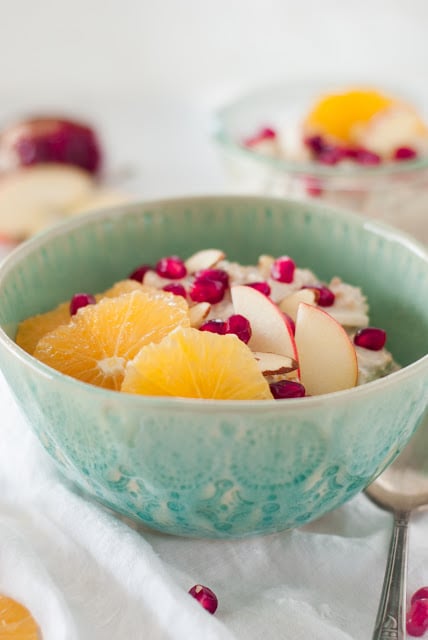 During the summer months I noticed that most of what I was eating was raw. Who knew raw beets were so delicious? I love them raw! I was feasting on the vegetables from my garden and the many wonderful locally grown fruits. In fact, I believe for a week about 90% of everything I ate was raw. I was amazed at how good I felt. I felt fabulous! I was loosing a bit of weight. I was running better than the previous year. I felt so great on the inside.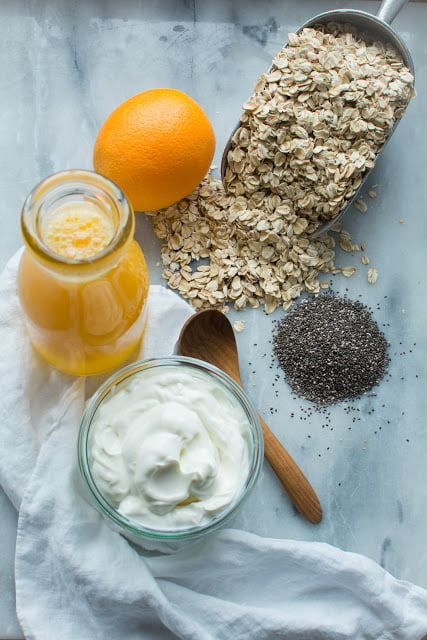 Bircher Muesli are just rolled oats soaked in a liquid. Most soaked oats are soaked in milk or plant based milk. Almond milk is a wonderful milk to use. I personally love soaking my oats in fresh squeezed orange juice. I love the brightness of flavor that it brings to the Muesli. I should mention that I don't add a sweetener because I feel like the orange juice is sweet enough. If I were going to use almond milk, I would stir in a little maple syrup or honey. I love honey.
This is what I used to prepare my Bircher Muesli:
2 cups rolled oats
1 1/2 tablespoons chia seeds
2 cups fresh Orange Juice
1 1/2 cups plain yogurt or plain Greek yogurt
and a pinch of Himalayan pink salt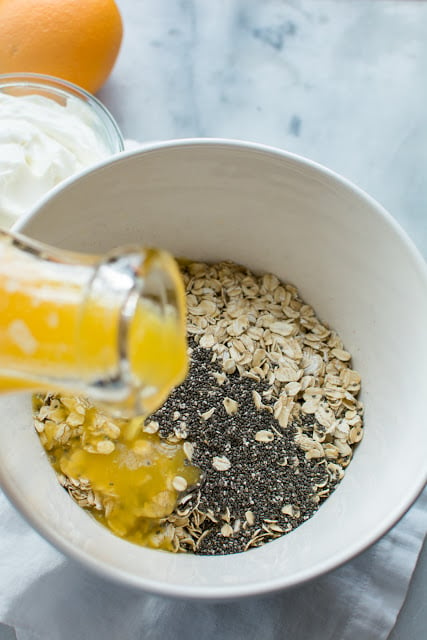 In a medium size bowl, combine 2 cups of oats and 1 1/2 tablespoons chia seeds. Pour 2 cups fresh orange juice over the mixture and stir.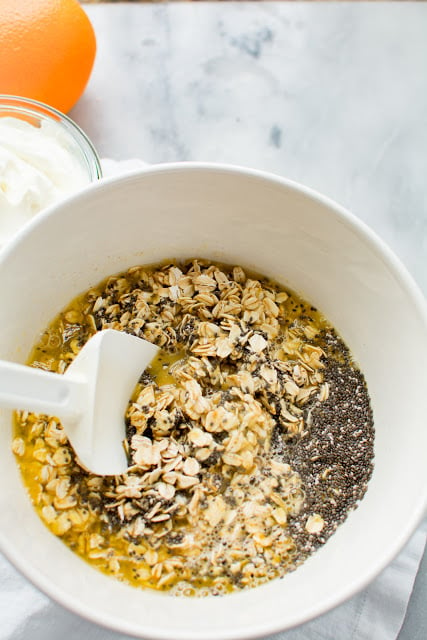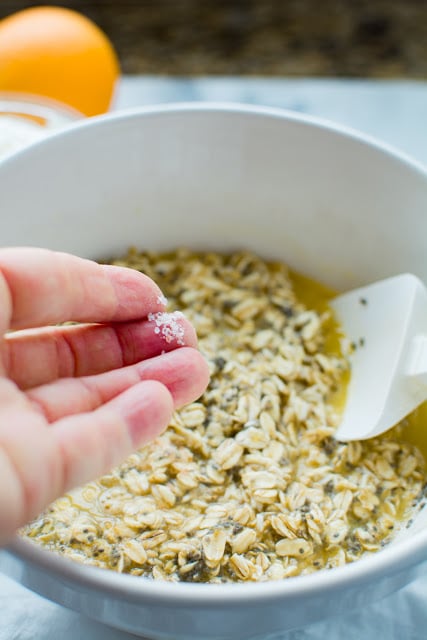 Throw in a good pinch of salt.
And 1 1/2 cups plain yogurt or plain Greek yogurt.
At this point you could add dried fruits, flax, coconut, nuts…anything healthy and delicious to you.
I like to wait until I'm ready to serve before adding fresh fruit or nuts.
Mix well. Cover and refrigerate overnight.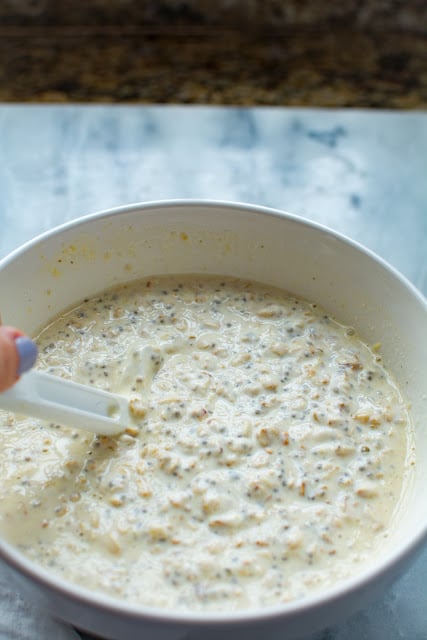 The next morning, remove the soaked mixture and stir.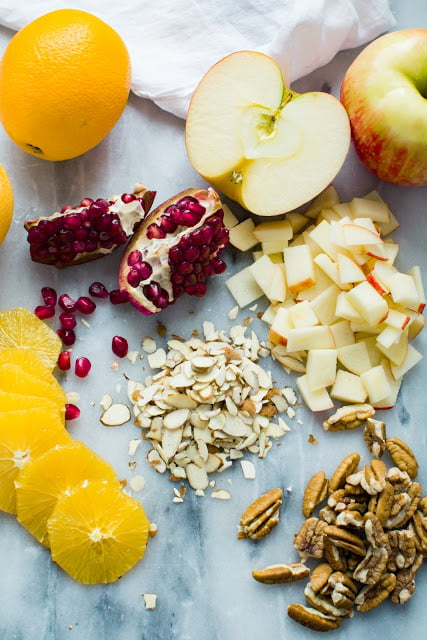 This is the best part. I'm going to stir in the nuts and chopped apples then top with orange slices and pomegranate arils.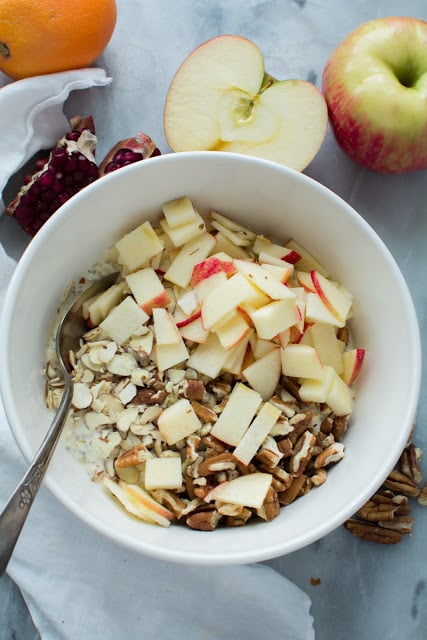 My perfect bowl of Bircher Muesli…well almost perfect. Cocoa nibs would make it perfect. Everything could use a few cocoa nibs. I love those things. They are my favorite food group, if that's possible.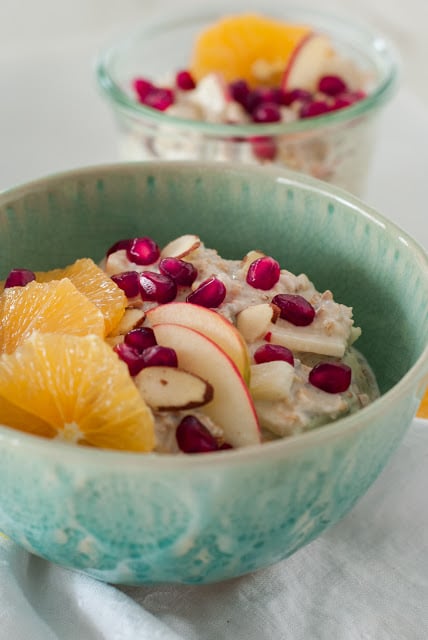 Make this year fresh, raw, and healthy.
Apple Pecan Bircher Muesli
2 cups rolled oats
1 1/2 tablespoons chia seeds
2 cups fresh Orange Juice
1 1/2 cups plain yogurt or plain Greek yogurt
pinch of salt
1 cup chopped Honeycrisp apples, skins left on
1/4 cup sliced almonds
1/4 cup pecans, roughly chopped
Fruit toppings:
oranges
pomegranate arils
Additional nuts, if desired
In a large mixing bowl, stir together rolled oats, chia seeds, orange juice and yogurt. Cover and refrigerate over night. To serve: Mix in chopped apples, pecans, and almonds. Serve in individual bowls and top with chopped oranges, pomegranate arils, and additional nuts, if desired. Makes about 4 servings. Muesli will last in refrigerator 3-4 days.