I have been putting sauteed apples in and on everything lately. I'm especially fond of sauteed apples and walnuts on top of my oatmeal after a cool morning run. Fabulous! My favorite breakfast EVER.
Apple filled crepes come in a close second. I usually serve this as a dessert, but omit the ice cream and the crepes become a very impressive breakfast…more like an absolutely AMAZING breakfast.
This is a pretty simple recipe with just a few ingredients. You will need:
5 large apples, peeled and chopped
6 tablespoons unsalted butter
1/2 cup sugar
1/2 cup brown sugar
1/2 teaspoon vanilla
pinch salt
1/2 heavy cream
8 prepared crepes
Vanilla ice cream, whipped cream, or confectioners sugar
Peel apples.
Can you peel and entire apple without breaking the peel having one continuous spiraled peel? I did once.
Cut the apples in half.
Quarter the apples.
Cut out the apple core.
Slice each quarter into slices.
Cut into a dice.
Place diced apples into a bowl and set aside.
In a large skillet, melt 6 tablespoons of butter.
Add the apples and stir to coat with butter.
Add 1/2 cup sugar.
1/2 cup brown sugar.
Stir.
Cook apples covered for about 10 minutes.
Remove lid and continue to cook for about 7 minutes or until apples are soft.
Add vanilla.
A pinch of salt.
Stir. Remove apples from juices with a slotted spoon.
Place in a bowl and set aside.
Bring remaining liquid to a simmer.
Pour in 1/2 cup heavy cream.
Continue to simmer until sauce is reduced and has the consistency of thin caramel sauce.
Set the sauce aside until ready to serve.
The apples and sauce can be made a couple of days in advance. How awesome is that?
Lightly butter a baking dish.
Spoon apples onto one half of the crepe.
Fold the other have of the crepe over the apples.
Fold again into a triangle shape.
Place in the baking dish.
Repeat until the crepes are all filled.
Place in a preheated 300F degree oven and bake for about 15 minutes or until the filling is hot.
Remove from the oven. The edges of the crepes will be slightly crisp and the filling should be hot.
Served with warmed apple caramel sauce.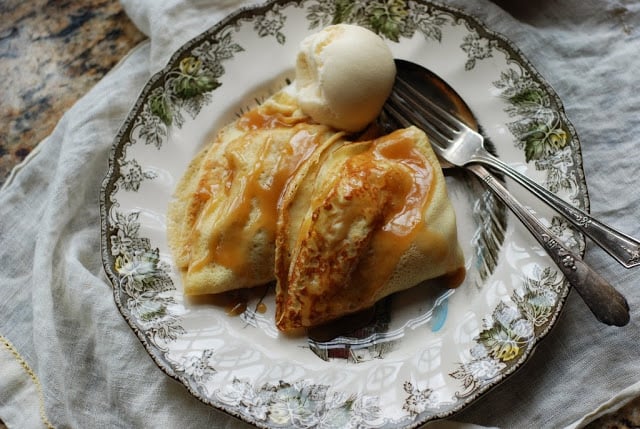 Add a big scoop of vanilla ice cream.
After taking this picture, I put my feet up, kicked back, and ate the entire plateful.
I have a tradition of eating my final shot. Awesome tradition.
I'll just add a few miles to my run tomorrow.