This year I resolve to avoid processed foods as much as possible. We all know that homemade is generally best. I love having homemade beef and chicken stock in my freezer. The best soups begin with homemade stock or broth. My mother always started her vegetable soup with a big old soup bone simmering all day with chopped onions, carrots, and celery.
I know exactly what goes into my beef stock. No additives or preservatives. No salt. I like to add that later as I'm making a dish. Homemade beef stock enhances the flavors or gravies, sauces and soups.
Homemade stocks are pretty simple. They just require several hours of simmering . Since I want to freeze extra stock I'm making a large batch.
Homemade Beef Stock:
2 large onions, roughly chopped
3 celery ribs, roughly chopped
3 large or 6 small carrots, peeled, ends removed and roughly chopped
5-6 pounds beef soup bones
3 bay leaves
fresh parsley
fresh thyme
This should make 1 1/2 – 2 gallons
Place the soup bones in a large roasting pan.
Wash and roughly chop the celery.
Wash, peel, and roughly chop the carrots. Remove ends. Use good fresh produce. Remember: Garbage in. Garbage out.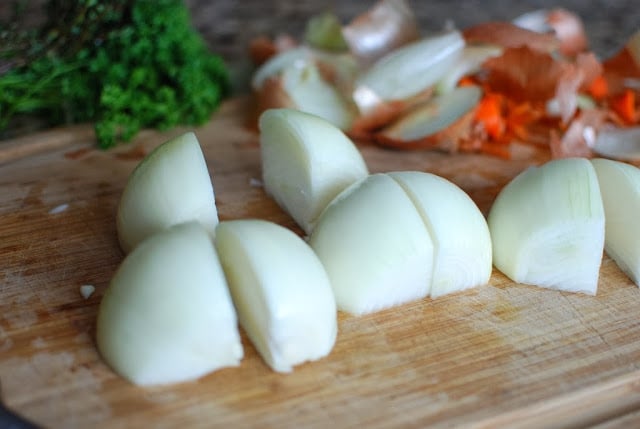 Peel and roughly chop the onions.
Toss the vegetables in the roasting pan with the soup bones.
Place in a preheated 500F (260C) oven. Roast for about 20 minutes. If my chance your oven temp does not go as high as 500F, just use the highest temperature you can.
This will brown the bones and veggies and give the stock a rich and deeper flavor.
After 20 minutes of roasting, remove from the oven.
You can see how the bones have started to brown.
The bottom of the roasting pan has wonderful caramelized juices from the veggies and beef bones.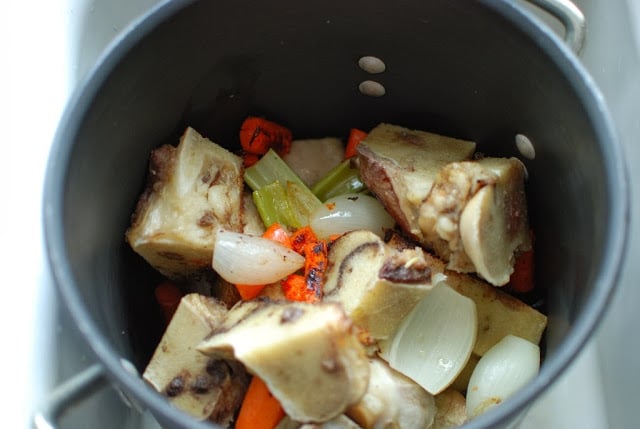 Place the veggies and beef bones in a large stockpot that can hold at least 2 gallons of liquid.
All of these browned bits and glaze equals flavor. I want to save all the flavor.
Place the roasting pan over a stovetop burner and add 4 cups of water.
As the water begins to boil, loosen up the brown bits and glaze from the pan. Let the water simmer until the glaze has dissolved.
Add enough cold water to barely cover the bones and vegetables. I'm using cold water because I want to slowly simmer the bones and vegetables. Simmering slowly releases some awesome flavor and marrow from the bones. This will help create a gelatinous stock when refrigerated.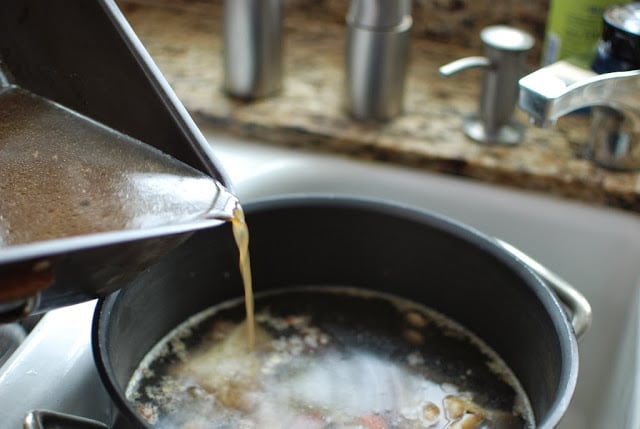 Pour the pan juices into the pot.
Tie a handful of parsley and thyme together with a piece of twine.
Add 3 bay leaves.
And the bundle of herbs (bouquet garni) into the pot.
Cover and simmer over very low heat for 5-6 hours.
Remove stock from the heat.
Line a large strainer with a double layer of cheesecloth.
Carefully pour the mixture into the strainer. The stock is very hot.
Discard the bones or give them to a dog, or whatever it is you do with your bones.
Let the stock cool and then place in a refrigerator. This will allow any fat (and there will be a lot) rise to the top and harden. Once the fat has hardened remove from the top of the stock and discard. (Sorry I forgot to take a picture of this step).
Once the stock has completely cooled and the fat has been removed, ladle into jars or freezer containers for later use.
You will never regret taking the time to make your own stock. Especially when you make my Vegetable Barley soup coming soon. The difference between good food and FABULOUS food is making it from scratch in your kitchen. It is more work, but so worth the time and effort…in my humble opinion.