I was recently asked this question:
Without any hesitation it would have to be my Peach Cobbler recipe. I guess calling it a cobbler is a pretty loose term for what it really is. It's pie crust enfolding fresh peaches. It's heavenly and I can't miss a peach season without it.
It was too hard to pick just one recipe. You absolutely have to try this Fresh Tomato and Basil Tart
And this Tomato Ricotta Tart.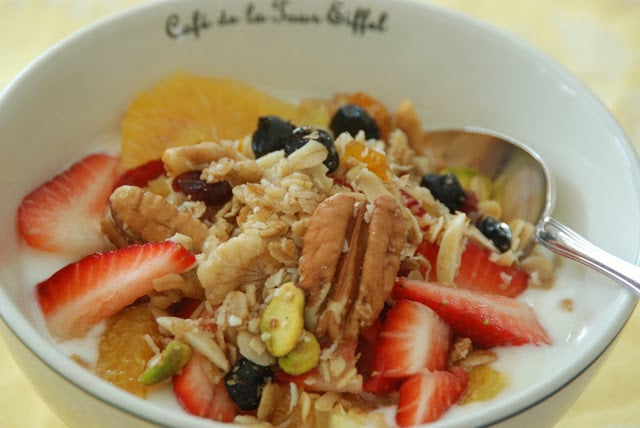 One more…
If you love nuts and you love granola you have to try Janet's Granola. Another favorite recipe of mine. My son-in-law literally goes through buckets of this granola. I double the recipe and put it in a large ice cream bucket for him. I have to remind him that it's pretty caloric and he will get chubby if he eats a bucket full a month.
What have I learned since my first post?
I probably should retake most of the photo's from some of my first posts. They are lacking in many areas. I admit that I'm photography challenged. I have learned so much about photography since I began snapping shots. I still have so much more to learn and hope to take photography classes this coming fall. Taking food photo's is my greatest challenge and I have to admit it takes me 8-10 hours per post. Sometimes I spend 2 hours trying to get one last great and final photo of the finished product. That's when I start screaming, "My children are all married. I should be spending my spare time at the spa"!
It never ceases to surprise me that more readers are interested in how to make The Perfect Rice Crispy Treat over Bircher Muesli with Bruleed Cherries. Really? I hope that a reader will come out of their comfortable food world to try something new, healthy and delicious.
I keep blogging because I love my readers and I love the comments you make to brighten my day. I sit at my computer reading comments and emails with a smile on my face and a happy heart. Thank you for stopping by every now and then.
xoxo
Janet