I have created the most amazing birthday breakfast. Carrot Cake Oatmeal – My Way!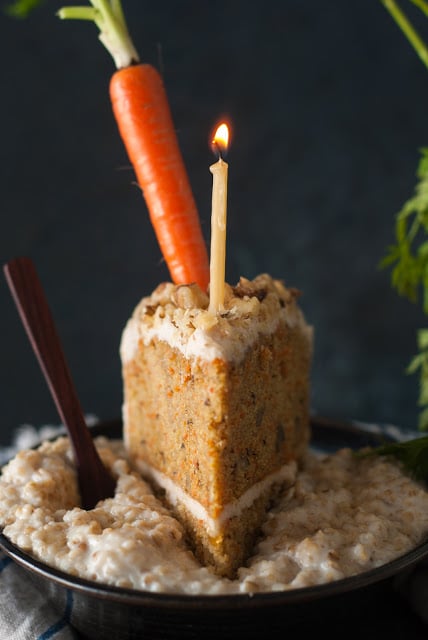 Today is my birthday! I'm celebrating the fact that I'm still alive! I'm healthy! I can run, not as fast, but I'm still hitting the pavement 5-6 days a week. I enjoy a few workouts at
Orange Theory
each week, which kicks my trash. Basically I feel like I'm 20 years old until I look in the mirror. Yikes! I try my hardest to eat as healthy as possible. I pretty much make everything from scratch. I avoid processed foods like the plague. I eat my greens and drink them too.
On my birthday I give myself a gift of eating whatever I want. If I have a birthday cake, I go for Carrot Cake or Chocolate, Chocolate, double loaded with Chocolate Cake. While perusing Pinterest for a great cake idea, I noticed many pins for Carrot Cake Oatmeal recipes. This turned on a light in my head. Wow! I love oatmeal and I love carrot cake. I can totally improve this recipe. I can create the greatest birthday breakfast ever…Carrot Cake Oatmeal…MY WAY!
The recipe is pretty simple. You will need:
1 cup cooked oatmeal of choice (I'm using Bob's Redmill Steel cut)
Place one cup cooked oatmeal mixed with cream and maple syrup in a bowl. Top with a large slice of carrot cake. EAT!
It's not coincidence that it's National Women's Day on March 8th. To all of you wonderful women born on this day, GO US! I wish you a happy birthday. Celebrate in style because you are one fabulous woman!
Oh…I think I'm going to be sick….
Next week…Green Juice!
SaveSave