Yogurt bowls are one of my absolute favorite breakfasts. They are right up there with smoothie bowls. You will love this golden chai spiced granola yogurt bowl topped with fresh strawberries, pomegranates and a slice of honey comb.
I love making my own granola. It's so easy. I know exactly what is in it. I can make my granola organic and free of additives. I can have a huge batch baked in 30 minutes. You will love this golden chai spiced granola on top of yogurt or just to snack on during the day.
Pomegranate alert! I went into my local grocer to purchase a stash of pomegranates and I couldn't find them anywhere! I asked the produce guy if pomegranates were gone for the season (heaven forbid). He showed me a tiny stack of the remaining pomegranates they had. I bought ten! I'm hoping they will last me for another month.
I top just about everything with pomegranate arils. Have you tried them in Ramen? What a wonderful burst of fresh, tart juice mixed with hot broth and noodles.
This is what I tossed together:
1 1/2 cups flaked coconut, organic unsweetened
1 cup old fashions oats
1/2 cup puffed millet
I like to lightly crush the nuts. You can leave the nuts whole or chop.
1 cup raw cashews
1/2 cup raw pistachios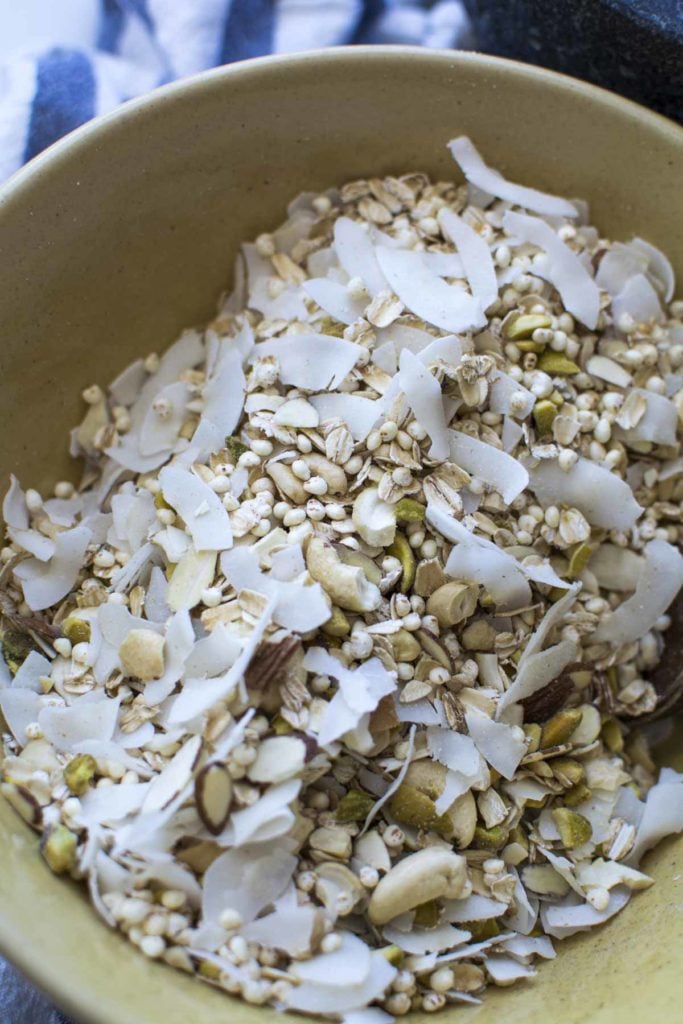 Toss all of the ingredient together in a large mixing bowl.
I love avocado oil. I use it for everything. It has a very mild flavor and goes well in just about anything. Avocado oil is a healthy fat, which can reduce cholesterol and improve heart health, just to mention a few.
In a small sauce pan add:
avocado oil (feel free to use coconut oil)
1/3 cup honey
1/4 cup coconut sugar
1/2 teaspoon pink Himalayan salt
1 teaspoon Cha spice blend or 1/2 tsp. cinnamon, 1/4 tsp. ginger, 1/4 teaspoon cardamom
Bring to a low simmer and stir constantly until mixture blends together.
Remove from heat and immediately pour over granola mixture.
Stir until all of the ingredients are coated with the honey mixture.
Spread granola on a silicone coated baking sheet (parchment works). Place in a preheated 350F oven and bake for 15 minutes.
Granola should be golden. Once removed from the oven you have 2 choices. 1) separate the granola with two forks into smaller pieces or 2) leave granola until cool, the break into large chunks. You choose. I like a little of both. Small piece for sprinkling over yogurt and large pieces to snack on.
To make this yogurt bowl you will need:
1 cup greek yogurt – I like full fat, 100% grass fed organic. It's so divine and creamy
sliced strawberries
pomegranate arils
golden chai spiced granola
honey comb or drizzle of honey, raw
a few chopped pistachio nuts
rose petals, if desired
Spoon 1/2 cup yogurt into a serving bowl. Arrange granola and fresh fruit on top. Drizzle with honey or a slice of honey comb (yum).
Actually the colors of this yogurt bowl would make a perfect Valentine breakfast or brunch. This is my kind of breakfast, but my Valentine wouldn't touch this with a ten foot pole. It's not dripping with Mrs. Butterworth's syrup and missing a side of bacon. Running and four children is pretty much the only thing we have in common.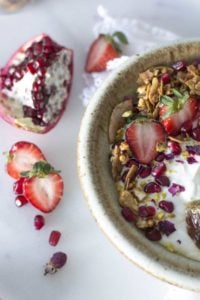 Print
Golden Chai Spiced Granola Yogurt Bowl
Yield 3 cups
Ingredients
Granola:
1/2 cup puffed Millet
1 cup old fashioned oats
1 1/2 cup ribbon or flaked coconut (unsweetened)
1 cup raw cashews, roughly chopped
1/2 cup raw pistachios
1/4 cup avocado oil
1/3 cup honey
1/4 cup coconut sugar
1 teaspoon chai spice or 1/2 teaspoon cinnamon, 1/4 teaspoon ginger, 1/4 teaspoon cardamom
1/2 sea salt
1 teaspoon vanilla
Yogurt bowl:
1 cup greek yogurt (whole milk, unsweetened)
sliced strawberries
pomegranate arils
honey comb or drizzle of honey
Chai spiced granola
Instructions
In a medium size bowl, stir together the millet, oatmeal, coconut, and nuts. Set a side.
In a small sauce pan, add oil, honey, coconut sugar, salt, and chai spices. Barely bring to a simmer stirring constantly until oil is well blended. Remove from heat and add vanilla.
Pour liquid over oatmeal mixture. Stir until all of the ingredients are coated with the honey oil mixture.
Pour granola onto a baking sheet lined with a silicone mat. Place into a 350F degree oven and bake for 15 minutes. Remove from oven and take two forks to separate granola into bite size piece. If you would like to have large pieces, let granola cool completely before breaking apart.
For granola bowl:
Spoon 1/2 cup greek yogurt into a small bowl. Top with sliced strawberries, pomegranate arils, honey comb and desired amount of granola.
Notes
Nutrition facts for Granola only.
Courses Breakfast
Nutrition Facts
Serving Size 12
Amount Per Serving

Calories 254

% Daily Value

Total Fat 15.4 g

24%

Saturated Fat 8.8 g

44%

Sodium 114 mg

5%

Total Carbohydrates 27.1 g

9%

Dietary Fiber 2.9 g

12%

Sugars 13.5 g

Protein 4.4 g

9%
* Percent Daily Values are based on a 2,000 calorie diet. Your daily values may be higher or lower depending on your calorie needs.
Here are more granola recipes for you to try:
My very first post on Simply So Good was a post for Janet's Granola. Recipe makes a ton.
Smoothie bowls:
Chocolate Berry Acai Bowl or How to Get in Chocolate and Berries for Valentines and Keep it Healthy